In This Issue

Last Week in Review: Change is coming to the Fed, but will it be coming to the Fed's Bond purchase program?

Forecast for the Week: Look for important news on housing, inflation, retail sales and more. Plus the minutes from the Fed's October meeting will be released.

View: Don't let the flu slow down your productivity this year. See the important tips below.
Last Week in Review


It's been said that the only constant is change. And change is soon coming to the Fed, as Fed Chairman Ben Bernanke is stepping down at the end of January. But perhaps the bigger question is whether change is coming to the Fed's current Bond purchase program (known as Quantitative Easing). Read on for details.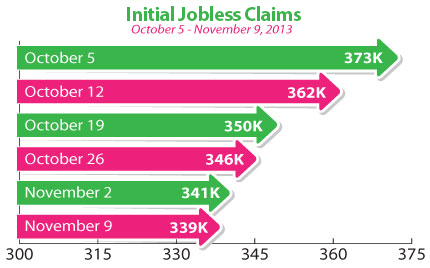 Remember that the Fed has been purchasing $85 billion in Bonds and Treasuries each month to stimulate the economy and housing market. This includes Mortgage Bonds, to which home loan rates are tied. Last week, incoming Federal Reserve Chairwoman Janet Yellen was on Capitol Hill for her confirmation hearing, and she signaled that the Fed's current Bond purchase program will continue, as the economy is still running below its potential. This should be good news for Bonds and home loan rates.

In economic news to note, Weekly Initial Jobless Claims continue to hover near the 340,000 mark while the Empire State Manufacturing Index came in weaker than expected. The latter report also revealed that labor market conditions are weak, with the index falling four points. This report backs up Yellen's statement in her prepared text at her confirmation hearing that, "Unemployment is down from a peak of 10 percent, but at 7.3 percent in October, it is still too high, reflecting a labor market and economy performing far short of their potential."

What does this mean for home loan rates? The Fed has said that its decision regarding when to taper its Bond purchases will be dependent on economic data. It will be important to monitor economic reports in the coming weeks, as they will determine whether the Fed begins to taper its purchases later this year or in 2014. The timing of this decision could have a big impact on home loan rates heading into 2014.

The bottom line is that now remains a great time to consider a home purchase or refinance, as home loan rates remain attractive compared to historical levels. Let me know if I can answer any questions at all for you or your clients.
Forecast for the Week


The week before Thanksgiving offers a cornucopia of economic data that touches a broad range of the U.S. economy.
Economic data kicks off on Monday with housing news from the National Association of Home Builders Housing Market Index, followed by Existing Home Sales on Wednesday.
Tuesday brings the Employment Cost Index for the third quarter, which measures the costs of labor for businesses.
Consumers' attitudes toward spending will be revealed in the Retail Sales report on Wednesday.
Inflation data from the Consumer Price Index and the Producer Price Index will be released on Wednesday and Thursday, respectively.
Weekly Initial Jobless Claims will be reported as usual on Thursday.
Also on Thursday, look for manufacturing data from the Philadelphia Fed Index.
In addition, the minutes from the Fed's October meeting of the Federal Open Market Committee will be released on Wednesday. It will be important to see if the minutes reveal any news about the Fed tapering its Bond purchase program.

Remember: Weak economic news normally causes money to flow out of Stocks and into Bonds, helping Bonds and home loan rates improve, while strong economic news normally has the opposite result. The chart below shows Mortgage Backed Securities (MBS), which are the type of Bond that home loan rates are based on.

When you see these Bond prices moving higher, it means home loan rates are improving -- and when they are moving lower, home loan rates are getting worse.

To go one step further -- a red "candle" means that MBS worsened during the day, while a green "candle" means MBS improved during the day. Depending on how dramatic the changes were on any given day, this can cause rate changes throughout the day, as well as on the rate sheets we start with each morning.

As you can see in the chart below, Bonds and home loan rates improved last week. With several key reports releasing this week, I'll be watching the markets closely.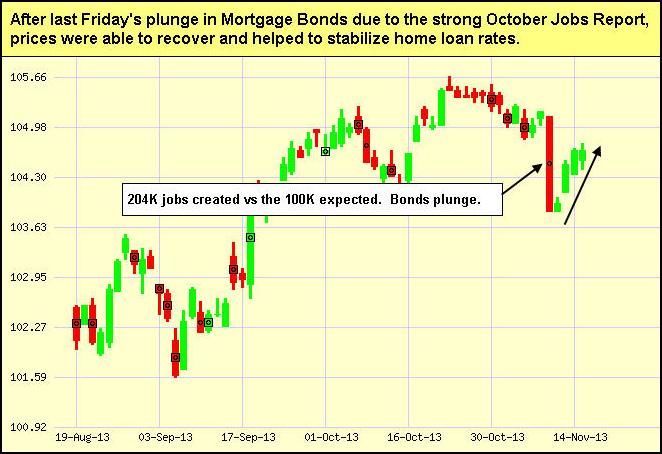 The Mortgage Market Guide View...


Productivity Points
Flu-Fighters for the Digital Age

With so many things to look forward to during the holidays--especially for business people who want to take some time out to prepare for the year ahead--the last thing anyone needs is to catch the flu.

Americans spend approximately $4 billion on over-the-counter cold and flu remedies, and that figure doesn't touch how much time and productivity is lost on sick time in the workplace, doctor visits, and money for prescriptions.

But now, there's a few ways to stay up-to-date on the latest flu information:

Flu Near You is a free site, and the brainchild of Boston Children's Hospital. When someone reports symptoms the map registers a "pin." Then you simply click on that pin to learn more about the symptoms or severity of the case in the specified area. You can also register to find out when flu cases are reported near you, and participate to help others learn more about the spread of the flu.

Flu Tracker is a free app for Android users that uses up-to-the-minute data from the Centers for Disease Control and Google Flu Vaccine Finder.

Fight The Flu and CDC Influenza are for iPhone users and feature similar tracking of flu virus around the country, with special sections on prevention and minimizing a flu virus should you get it accidentally.

Here's to a happy and flu-free holiday season! And don't forget to share this health-boosting information with your team, clients, and colleagues.



Economic Calendar for the Week of November 18 - November 22
| | | | | | | | |
| --- | --- | --- | --- | --- | --- | --- | --- |
| Date | ET | Economic Report | For | Estimate | Actual | Prior | Impact |
| Mon. November 18 | 10:00 | Housing Market Index | Nov | NA | | 55 | Moderate |
| Tue. November 19 | 08:30 | Employment Cost Index (ECI) | Q3 | NA | | 0.5% | HIGH |
| Wed. November 20 | 08:30 | Retail Sales ex-auto | Oct | NA | | 0.4% | HIGH |
| Wed. November 20 | 08:30 | Consumer Price Index (CPI) | Oct | NA | | 0.2% | HIGH |
| Wed. November 20 | 08:30 | Retail Sales | Oct | NA | | -0.1% | HIGH |
| Wed. November 20 | 10:00 | Existing Home Sales | Oct | NA | | 5.29M | Moderate |
| Wed. November 20 | 02:00 | FOMC Minutes | 10/30 | NA | | NA | HIGH |
| Thu. November 21 | 08:30 | Jobless Claims (Initial) | 11/16 | NA | | NA | Moderate |
| Thu. November 21 | 08:30 | Producer Price Index (PPI) | Oct | NA | | -0.1% | Moderate |
| Thu. November 21 | 08:30 | Core Producer Price Index (PPI) | Oct | NA | | 0.1% | Moderate |
| Thu. November 21 | 10:00 | Philadelphia Fed Index | Nov | NA | | 19.8 | HIGH |