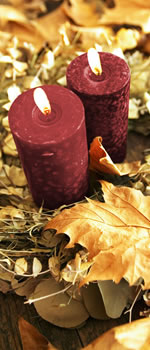 Cultivate Your Full Potential
Les Brown's Key to a Successful Life
"You don't get in life what you want," says best-selling author Les Brown, "You get in life what you are." However, because we live in a world in which we're told more often of our limitations than of our gifts, most people, Les believes, will go to their grave having never discovered their full potential. With this in mind, YOU Magazine is pleased to present the inspired teachings of Les Brown, world-renowned speaker and motivator for over 30 years, on the important topic of human potential.

The Year in Home Loans
Glancing Back & Looking Ahead
The holiday season is a perfect time to pause and reflect on the year gone by. Likewise, it provides us with an opportunity to set our sights on the year ahead. Believe it or not, this combination of observation and foresight also applies to the world of home loans. In the spirit of the season, YOU Magazine turned to mortgage market forecaster, Bill Dallas, CEO of Ownit Mortgage Solutions in Agoura Hills, CA, for an overview of 2006, as well as a preview of what to expect in the weeks and months ahead.


Enjoy Holiday Food Without Guilt or Weight Gain!


It is the best of times. It is the worst of times. That's not only a twist on the beginning of a classic novel, it's also the way any weight-conscious food lover is likely to feel about the holidays. The temptations are mouth-wateringly abundant: roasted turkey, mashed potatoes with gravy, stuffing, and pumpkin pie. Once December rolls around, the choices only get more decadent as everything from prime rib to a tray of grandma's cookies is rolled out in front of you.


Year End Financial Tips to Reduce Your Taxes


As the holiday season begins in earnest, taxes may be the furthest thing from your mind. However, by taking a little time to review your finances before the end of the year, you may be able to save yourself quite a bit when that dreaded April tax deadline rolls around. Trevor Rice, a CPA for Stern, Kory, Sreden and Morgan in Santa Clarita, California, says, "The end of the year is the perfect time to look at your options as a taxpayer." To learn more, we sat down with Trevor and asked him for his advice on the subject.

Creating a Home Theater
You May Never Leave the House Again
Going to the movies isn't what it used to be. Once you get past the chorus of cell phone ringtones, courtesy of fellow movie-goers who've neglected to put them on "vibrate", you find yourself sitting next to the person who makes repeated trips to the snack bar, restroom, or wherever the heck someone goes during a movie. In addition, two adult tickets for this experience, plus parking and snacks, will run you close to $50. If this doesn't sound like fun, you may want to consider creating a kinder, gentler theater experience inside your own home.

Cooking at Home for the Holidays
By Kirk Leins
You've been good all year. You've stuck to that ever-popular high-protein/low-carb lifestyle, and it's worked! You, along with many others, have lost weight and, even better, you feel great. I'll bet at some point you've even sworn (on the memory of the late Dr. Atkins) to never go back to your old life of meat and potatoes… and more potatoes. But guess what? The holidays are here and carbs are everywhere. Now what are you going to do?

The Truth about Traveling with Children
Part II: The Difficult Years (9 – 24 Months)
By Tim Braheem
Most people agree that traveling is a wonderful experience. When it comes to traveling with children, however, the response isn't always so positive. If you read my first article, The Truth about Traveling with Children: Part I, you know where I stand. Does traveling with your kids require forethought and planning? Absolutely! Is it potentially one of the most rewarding experiences one can have as a parent? Without a doubt!