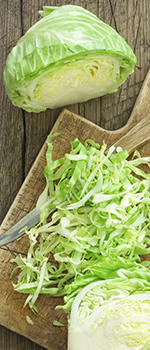 Tasty, Healthy, Inexpensive and Quick
By Kirk Leins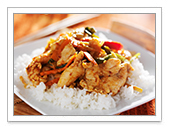 When it comes to our diets, most of us ended the holiday season with a bang. If we didn't overeat, we definitely overindulged when it came to sugar and fat intake. By properly managing our diet throughout the year, we can allow ourselves moments of true decadence before getting back on track.

Here are two recipes to help start the year off right. These dishes are tasty and healthy! And, as an added bonus, their cost and preparation time are down to a minimum.

Thai Cabbage Salad
(Serves 2 as an entrée, 4 as a starter)
This Thai cabbage salad is the ultimate in terms of a healthy, cleansing meal. It is vegetarian and vegan, but can easily accommodate chicken, skirt steak or shrimp. It is low in both fat and carbs, yet has the ability to satisfy even the biggest of eaters.

For the Salad:

1 large head of Napa cabbage, halved lengthwise and sliced thin
1 carrot, peeled and grated
1 bunch green onions, chopped small
1 medium tomato, seeded and chopped
1 cup Daikon radish, peeled and grated (optional)
1 cup bean sprouts
1/4 cup sliced almonds, lightly toasted in a dry pan
Fresh cilantro leaves as a garnish
For the Dressing:
3 tablespoons soy sauce
3 tablespoons fresh lime juice
3 tablespoons honey
1/4 cup toasted sesame oil
1 clove garlic, chopped fine
1 tablespoon fresh ginger, peeled and grated
1 jalapeño chili, seeded and chopped fine (optional)
1 teaspoon curry powder
1 teaspoon finely chopped fresh mint or 1/2 tablespoon dried mint
Kosher salt and freshly ground black pepper to taste
In a medium-sized bowl, combine all the ingredients for the salad dressing. Whisk well and set aside. In a large salad mixing bowl, combine all of the ingredients for the salad except the cilantro. Add salad dressing and toss well. Garnish with cilantro leaves and serve immediately.


Chicken Breast in Orange Sauce
Boneless, skinless chicken breasts typically conjure up thoughts of a somewhat boring dinner. Not any more. I guarantee this will have your family asking for seconds. I suggest serving this dish with steamed Jasmine rice and vegetables of your choice.
4 large chicken breast halves (boneless and skinless), 1 1/4" to 1 1/2" thick
Kosher salt and freshly ground black pepper
1 1/2 tablespoons extra-virgin olive oil
1 large shallot, finely chopped
1 1/2 cups freshly squeezed orange juice
2 tablespoons fresh sage, finely chopped
2-3 tablespoons unsalted butter
Liberally season chicken breasts on both sides with salt and pepper. Set aside. In a large, heavy-bottomed skillet, heat olive oil until quite hot and simmering. Add chicken breasts and fry for 4 minutes (2 minutes per side). Remove chicken breasts to a plate.

Drain half the olive oil from the pan, return it to the stove, and reduce the flame to medium. Add shallot and sauté for 1 minute, scraping up any brown bits stuck to the pan with a wooden spoon. Add orange juice, 1 1/2 tablespoons of the sage, and season with salt and pepper.

Once the orange juice begins to simmer, return the chicken to the pan and simmer for 5 minutes or until it's cooked through. Remove chicken to a plate and loosely tent with aluminum foil. If the orange juice hasn't reduced by half and thickened, allow it to simmer for an additional 2 minutes. Once thickening has occurred, reduce heat to low and swirl in the butter. Place chicken on plate, ladle with sauce, and garnish with remaining sage.


| | |
| --- | --- |
| | Kirk Leins has been cooking his entire life. No stranger to professional kitchens, he currently devotes most of his time to cooking instruction, food writing, and producing television. Kirk also provides his services as a personal chef in and around the Los Angeles area. He has made several TV appearances on both the national and local level, and is the Executive Chef for YOU Magazine. Sign up for Kirk's free newsletter and cooking blog at www.NoTimeToCook.com. |