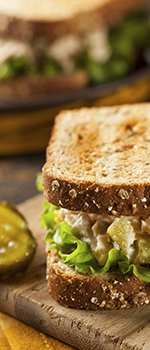 The Renaissance of the Homemade Lunch
By Kirk Leins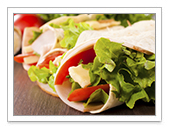 When it comes to packing a lunch at home, no food item is more practical or ubiquitous than the sandwich. Give yours some flare with these tasty twists that are sure to hit the spot.

The Veggie
(Makes One Sandwich)

A veggie sandwich is a great way to use up extra veggies in your fridge while providing you with a lunch that's slightly heartier than a salad.
2 slices of sturdy bread (whole wheat, sourdough, baguette, etc.)
4 tablespoons softened cream cheese
Thinly sliced veggies (cucumber, tomato, red onion, avocado, etc.)
1/3 cup shredded romaine lettuce
Kosher salt and freshly ground black pepper
Slather equal amounts of cream cheese onto one side of each slice of bread. On one slice, layer the veggies on top of the cream cheese, making sure to season each layer. Top with shredded lettuce and the remaining slice of bread.

The cream cheese serves three purposes. First, it provides a perfect barrier between the bread and veggies, keeping the bread from getting soggy. Second, its creamy richness is a beautiful complement to the crisp veggies. Third, its consistency anchors the sandwich together.


Not-Your-Ordinary Tuna Sandwich
(Makes Two Sandwiches)
4 slices of sturdy bread (whole wheat, sourdough, baguette, etc.)
1 can albacore tuna (packed in water), drained and flaked with a fork
2 tablespoons minced red onion
1/4 cup peeled green apple, finely diced
1-2 heaping tablespoons real mayonnaise
Mild curry powder
Kosher salt and freshly ground black pepper
Chopped cilantro (optional)
In a medium bowl, combine tuna, red onion, green apple and the desired amount of mayonnaise. Mix well and taste. Starting with small amounts, add curry powder, Kosher salt and pepper until tuna mixture is seasoned to your liking. Mix in cilantro and set aside. Lightly spread mayonnaise onto one side of each slice of bread. Equally divide tuna among two of the slices and top with remaining piece of bread.


Turkey Pesto Wraps
Real mayonnaise
Good-quality store-bought pesto sauce
Lavash (middle eastern flatbread) or large flour tortillas
Mesquite-smoked deli turkey meat
Sliced gouda or Swiss cheese
Thinly-sliced Roma tomato
Shredded romaine lettuce
In a small bowl, combine equal portions of mayo and pesto. Feel free to adjust the proportions to your liking. Lightly spread mixture on to one side of lavash or tortilla. Working from one end of the bread to the other, create individual rows of turkey, cheese, tomato and lettuce, in that order. Moving in the same direction, roll flatbread until it somewhat resembles a burrito. Slice in half crosswise and individually wrap each piece.

Lunch is served ... well, almost. These ideas will allow you to not only reclaim ownership of an important daily ritual, but you'll also have a great lunch to show for it.


| | |
| --- | --- |
| | Kirk Leins has been cooking his entire life. No stranger to professional kitchens, he currently devotes most of his time to cooking instruction, food writing and producing television. Kirk also provides his services as a personal chef in and around the Los Angeles area. He has made several TV appearances on both the national and local level, and is the Executive Chef for YOU Magazine. Sign up for Kirk's free newsletter and cooking blog at www.NoTimeToCook.com. |