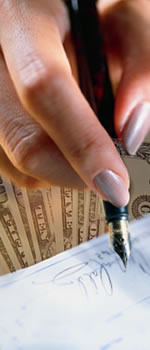 A Beginner's Guide to Online Selling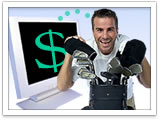 1995 was an historic year for the internet. It happened to be the year when two entrepreneurs developed an online marketplace where individuals could auction goods and services to the public. The company grew quickly. Actually, it exploded into the phenomenon that's known today as eBay®. Now a public company with users worldwide, eBay's website makes several million items available for purchase every day.

As you probably know, almost anything can be bought and sold on eBay. From collectibles and handmade items to vehicles and vacation packages, selling goods online has become all the rage. The primary reason for this is the internet's ability to reach an overwhelming number of people or, in this case, potential buyers.

Since we all agree that online selling is a great idea, how does this impact the average person? That question can be answered by another question. What do you have to sell?

Many people who sell online create their own merchandise. This merchandise runs the gamut from fine art to household crafts. Others purchase used items, restore them, and sell the refurbished goods online. Some just purchase an item at a bargain price and sell it at a higher cost. And then there are those who simply sell items they no longer want. FYI, any of those unwanted or unneeded holiday/birthday gifts fall into this category.

In addition to selling tangible products, people also sell various services online. Are you a photographer capable of shooting weddings or headshots? Maybe you do calligraphy or embroidery. The bottom line is, if you have a talent or can provide a service (that doesn't break any laws), you can get paid for it by promoting it online.

What's important to remember is that online selling comes in many shapes and sizes. Some use it to simply clean house, getting rid of unwanted stuff. Others use it to subsidize their income. They're "keeping their day job" and selling online as part-time work. Then there are those who generate 100% of their income by selling items or services online.

If you're interested in getting involved with online selling, it is important to understand the various options. To start, let's look at two popular websites for online selling, each with a different approach:

eBay
eBay transactions are conducted either via an online auction or what's known as a "Buy It Now" sale. Both processes begin with a seller listing an item for purchase. At that point, eBay charges the seller an "insertion" or listing fee based upon the item's starting or reserved price.

"Starting price" refers to the dollar amount where bidding in the auction starts. "Reserve price", on the other hand, refers to the asking price in a "Buy It Now" sale. This transaction involves no auction and allows a seller to advertise an item for a specific amount. It's important to know that eBay charges the seller an extra fee to do this but refunds the money if the item sells.

Since competition among sellers on eBay is fierce, many people opt to pay an additional fee(s) for various listing upgrades. These upgrades allow the seller to visually enhance their listing, thus attracting more buyer attention.

When it comes to the duration of the auction, the seller has several options, ranging from 1 to 10 days in length. The seller's choice depends on several things. The first is how quickly they need the item to sell. The second is the likelihood that a longer auction will create a bidding war. As a person becomes more experienced with selling, certain techniques concerning item listings and auction durations can be used to enhance one's sales.

At the end of the allotted auction time, the person with the highest bid wins the auction, as long as the bid is equal to or higher than the seller's "starting bid". At that point, the seller is charged another fee based upon the item's final selling price. Also, the seller is now obligated to communicate with the winning bidder in order to arrange payment and shipping.

Payment and shipping can be handled in a myriad of ways. In terms of payment, however, one of the most popular methods is something known as PayPal®. When a seller has a PayPal account, winning bidders can electronically pay the seller via the internet, guaranteeing the sale on both ends. eBay (who now owns Paypal) charges the seller a fee to use it, but it's absolutely the safest way to go.

In terms of the entire eBay process, much of the seller's success depends on their overall customer satisfaction rating. This is known as "feedback", and the aim of most sellers is to keep it 100% positive. There are so many sellers with nothing but positive feedback that anything negative will hamper the chance of a sale.

You should know that eBay is not the only online auction site. Both Amazon® and Yahoo offer similar services. Their rules and procedures differ from eBay but both websites allow individuals to post items for sale.

It's also important to understand there is a learning curve when it comes to having consistent success with online auctioning. Simply speaking, the more you do it, the more positive feedback and marketing skills you acquire. The good news is there are countless books available that can help accelerate the process. A simple Google™ search will turn up a number of choices.

Craigslist
Started in 1995 by founder Craig Newmark, www.Craigslist.org is much different than eBay. Living in San Francisco during the birth of the internet, Newmark initially used the site to list events which were taking place around the city. He saw it as a way to bring a more personal experience to an impersonal internet.

Newmark was right because, over time, people began posting everything from items for sale to rooms for rent and job openings. What started out as a localized list of events quickly turned into a worldwide bulletin board. Craigslist is unique in that it is free for individual use and has no advertising of any kind. How does it stay alive, you ask? It charges below-market fees to employers who list job ads in 7 of the country's major cities, as well as brokers who post apartment listings in New York City.

When you log on to Craigslist, you'll see a list of states, major cities, and foreign countries. Click on your state and you'll get a list of most of its major cities and surrounding areas. Click on your city of choice, and you are taken to that city's Craiglist page. There you will see the numerous subject headers. Whether you're looking for concert tickets, a room for rent, a job, or simply trying to sell goods or services, the Craiglist page is an awesome resource.

Craigslist boasts 5 billion page views per month and claims to be the 7th most visited English-language website in the world. Not bad for a website which employs only 23 people, all working out of a Victorian house in San Francisco.

If you're planning to sell items or advertise a service on Craigslist, there are a few things you should know. For starters, Craiglist is not an auction site. Think of it more as a giant "classifieds" section of a newspaper. It also encourages its users to deal locally and to exchange goods for money in person. These two facts make Craiglist very user-friendly. Simply post your ad on the website, and wait for a response.

When it comes to communicating with potential buyers, the seller has a few options to choose from. One is to utilize the website's emailing capabilities. When posting an ad, Craigslist asks for your email address. The address does not appear in the ad, but interested buyers can still contact you by clicking a "Reply to" tab. A seller can also list their phone number in the ad, but remember, it's there for the world to see.

The advantages to using Craigslist are many. It's free, easy to use, and requires little commitment to name just a few. The downsides, however, are basically two-fold. To begin with, most of your dealings are local, so the pool of potential buyers shrinks considerably from that of eBay's. Secondly, a face-to-face meeting with someone you do not know can be a little dicey, especially if they're coming to your home. We suggest settling on a neutral meeting place and only accepting cash as payment.

For those who are looking to sell an item here and there, or advertise a local service, Craigslist may be the perfect venue for you. For those who want to do a lot of selling, getting involved with eBay may serve you better. Regardless, there are countless opportunities and reasons for selling online. The way you manage it is completely up to you.