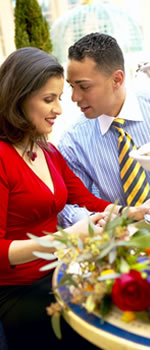 Molten Chocolate Cake: A Gift Like No Other
By Kirk Leins
Most people agree that chocolate is romantic. When it's presented in a heart-shaped box, however, the collection of confections takes on a new meaning. It magically becomes a very sincere gesture, reminiscent of a more innocent time. It may be the "sweetest" way imaginable to say, "I love you." But there's a slight problem. The majority of chocolate purchased in heart-shaped boxes is nothing to write home about.

Saving Face
New Treatments May Reduce the Signs of Aging
It's been said that the eyes are the window to one's soul. Faces, on the other hand, reveal details about one's age and lifestyle. Over the years, people have tried numerous techniques to reduce the signs of aging. From special diet additives and creams to more drastic measures, including face-lifts, we're always in search of new ways to turn back time.

Trends in Business Networking
By Dr. Ivan Misner
In the early 1980's, John Naisbitt wrote in Megatrends about the emerging importance of the networking process in society. Later, Tom Peters wrote in Thriving on Chaos that this "process can be systematized." When you stop to think about it, these two statements weren't made all that long ago. Networking and relationship marketing is a fairly new kid on the block.

Thinking About Buying a Home?
Tips to Maximize Your Buying Power
Spring is typically the busiest time of the year for the Real Estate Industry, and 2007 should be no different. In fact, during this spring selling season, home buyers will be greeted with the first buyer's market we've seen in the Real Estate Industry in some years. With inventories up in numerous regions throughout the country, and interest rates near historic lows, home buyers will have many more opportunities this year to finally make their dream of owning a home a reality.

Digital Cameras
The Future of Personal Photography
It doesn't matter who you are. Your age, your tax bracket, your gender–none of it matters. Every single person who's reading this article has the need or the desire to photograph someone or something. Parents, grandparents, business owners, budding photographers, travel fanatics, the list goes on. The bottom line is that a camera is a "must have" piece of equipment, so it's important to know the facts before you buy one.


Preparing Your Home for the Spring Selling Season


The days when you could throw a "For Sale" sign in the front yard and have your home sell quickly are over, at least for now. Around the country, home inventories are up, and the result has been a drastic increase in average selling times. Add to that the fact that your home may not be worth what it was a year ago, and you've got the makings of a rather lengthy, and potentially miserable, sales process. But, it doesn't have to be that way.


A Beginner's Guide to Online Selling


1995 was an historic year for the internet. It happened to be the year when two entrepreneurs developed an online marketplace where individuals could auction goods and services to the public. The company grew quickly. Actually, it exploded into the phenomenon that's known today as eBay®. Now a public company with users worldwide, eBay's website makes several million items available for purchase every day.