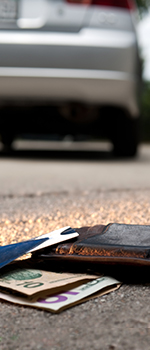 Worst Things to Keep in Your Wallet
As you might imagine, lost and stolen wallets are a dream come true for identity thieves. While there are some essentials you must keep in your wallet, in this quick video you'll learn about items better left at home and why, including:

Your Social Security card is rarely needed for day-to-day financial transactions, but it's worth many times its weight in gold.

Your spare key is another item that can open the door to criminal intent.

Blank checks and password cheat sheets can create big trouble in your personal and financial life in the wrong hands.

Learn how to minimize damage and quickly protect yourself in case your wallet is ever lost or stolen.

Watch the video* below. Then read about more things you should never keep in your wallet.




*If you are unable to view the video on your mobile or tablet device, please enjoy it on your desktop.



Video featured with permission. All Contents ©2017 The Kiplinger Washington Editors. Kiplinger.com.