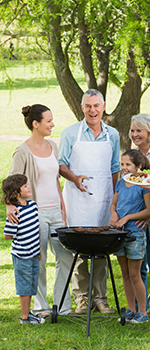 BBQ Boosters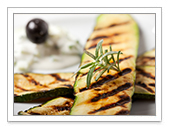 No need to go through a ton of trouble to dress up your barbecues. This summer, add some zest to your cookouts with these unique and easy side dishes.

Minestrone Pasta Salad
(Serves 8)

Everybody loves the soup. Here's the salad! Plus, it's served at room temperature, just perfect for outdoor meals.
12 ounces fingerling or baby red potatoes
8 ounces green beans, cut in half
1 pound asparagus, trimmed and cut into 1-inch pieces
1 pound gemelli or tubetti pasta
1/2 cup pesto
1 15 1/2-ounce can cannellini beans (drained and rinsed)
1 6-ounce jar roasted peppers, sliced into strips
Salt and pepper to taste
In a medium saucepan, cover potatoes with water and bring to a boil until tender when pierced with a fork (about 10 minutes). Spread potatoes on a baking sheet to cool, then slice into 1/2-inch coins.

Bring a large pot of water to a boil and add 1 teaspoon salt. Prepare a bowl of ice water. Carefully add green beans and asparagus to the boiling water and boil until bright green (1-2 minutes). Rinse with cold water and then submerge vegetables in the ice water until they are cool. Drain, pat dry and set aside.

Cook pasta until al dente. Drain and put in a large bowl to cool.

Once the pasta has cooled, toss in the potatoes, asparagus, green beans and the remaining ingredients. Add salt and pepper to taste. Serve immediately or this recipe can be prepared 1 to 2 hours before serving.


Grilled Zucchini and Leeks With Walnuts and Herbs
(Serves 4)

When grilling leeks and zucchini, keep a close eye on them. Al dente is better than mushy for this dish to work best.
1/3 cup walnuts
1 garlic clove, finely grated
2 tablespoons fresh lemon juice
5 tablespoons olive oil, divided
Kosher salt
Freshly ground black pepper
2 large leeks (white and pale-green parts, halved lengthwise with some root attached)
2 large zucchini (about 1 pound, halved lengthwise)
1/2 cup (lightly packed) fresh flat-leaf parsley leaves with tender stems
Set grill to medium-high heat. Toast walnuts in a dry, small skillet over medium heat, tossing until fragrant (about 5 minutes). Chop walnuts coarsely, then toss with garlic, lemon juice and 3 tablespoons oil in a large bowl. Salt and pepper to taste.

Brush leeks and zucchini with remaining oil and season with salt and pepper. Grill, turning often, until tender and charred in spots (5-8 minutes for leeks, 8-10 minutes for zucchini).

On a cutting board, trim roots from leeks and cut both vegetables into bite-size pieces. Toss with parsley and walnuts in a large bowl. Season with salt, pepper and more lemon juice to taste.



Source: Epicurious