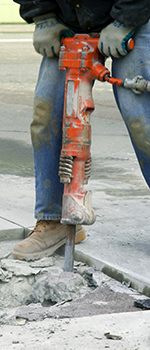 Combat Carpal Tunnel Syndrome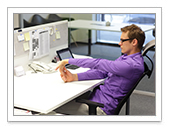 If you spend a good portion of your day typing, writing or doing other repetitive hand motions during work or hobbies, you may be at risk for developing carpal tunnel syndrome (CTS). Here's what you need to know about this condition and ways to prevent it or bring relief to current issues.

What causes CTS? The carpal tunnel is a small space in between your wrist bones through which the median nerve and several tendons run. When swelling and inflammation compress this space, it can put pressure on the nerve and cause pain or discomfort associated with CTS.

What are the symptoms? The condition usually starts gradually with tingling, weakness and numbness in the hands, thumbs and fingers, but it can lead to chronic pain over time.

Who's at risk? CTS is especially common for people who do assembly line work or are in jobs requiring use of vibrating tools, a strong grip, and extensive typing or computer use. Other health issues as well as physiology can aggravate carpal tunnel problems. This includes hypothyroidism, rheumatoid arthritis, diabetes, menopause, pregnancy or a previously broken wrist.

What can you do to prevent or relieve symptoms? Office-related CTS can be reduced with proper ergonomic setup of your work station. For example, you should set your desk so forearms are parallel to the floor and wrists are in a neutral position as you work. In addition:
Take a break. A 10- to 15-minute break every hour is ideal if possible.
Stretch out. During breaks or while working, perform CTS-specific exercises.
Remain neutral. Avoid completely extending your wrist up or down. Keep a straight or slightly neutral position to help relieve pressure.
Perfect your posture. Sitting or standing with your shoulders rolled forward can set off a chain reaction through the rest of your body.
Home-care treatments: If you experience pain or swelling, ice your wrists for 10-15 minutes. Consider wearing a wrist splint at night to help remove pressure from the median nerve.

As always, you should consult a doctor to accurately diagnose any manner of chronic pain as well as steps to alleviate the pain.



Sources: WebMD, TheSelfEmployed.com