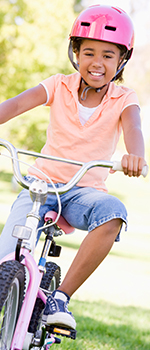 Trade In Used Kids Stuff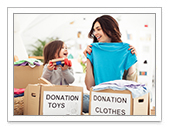 Just because your kids can't (or won't) use old toys, games, clothes or bikes doesn't mean you're stuck with storing them. Second-hand kid stuff is in high demand. While you probably won't make a mint trading them in, you can feel good about giving your stuff a second life and getting a little cash for your trouble.

Once Upon A Child is the largest kids resale franchise in the U.S. The stores accept gently-used kids' clothing, shoes, toys and baby gear in exchange for cash. While they only accept items purchased new within the last five years, you'll be paid on the spot for items that are chosen.

Trek Bicycles offers a trade-up program for children's bikes. When your child outgrows their old Trek, you can bring it back within three years of purchase and receive up to 50 percent of the bike's original price in credit towards a brand new one.

KIDSTrade is a free app designed for the kiddos themselves. Users can list unwanted items and trade them for items listed by others within their own school. The app has a number of safety features that ensure appropriate content and boundaries and notifies parents of their child's activity.

BrickSwap lets you swap and trade used LEGO parts, mini-figures, complete sets, loose bricks and more. Register as a member or merchant, and then check the available swaps, trades, auctions and sales of used items.

Amazon's Trade-In Program allows customers to return thousands of used products in exchange for Amazon Gift Card credit. Users can turn in a variety of items, including video games, Kindle e-readers, books and more. You'll get an immediate offer and free shipping to return the items.

Kidizen is a second-hand marketplace app and community that provides storefronts to offer and discover the latest clothing styles for kids. Review the House Rules, create a storefront, upload your photos and descriptions, and start selling.

thredUP is the largest online second-hand and consignment store for kids clothing. To send in your items, order a Clean Out Kit, fill it with clothes and shoes, and send it in for review. If your items are accepted, you may be eligible for a payout of 10 to 80 percent; if not, you can opt to have the items shipped back (for a fee) or donated by thredUP. Once alerted to your payout amount, you can buy new items with store credit right away or wait 14 days and have the money sent to your PayPal account or a thredUP prepaid Visa card.

Capture some cash from your used kid stuff today!

Information current at time of writing.