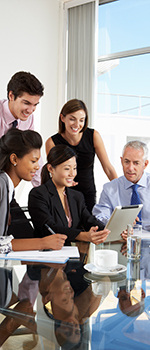 How to Connect With Other Generations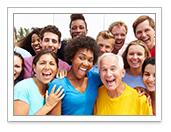 While it can be tempting to spend time exclusively with our own age groups, there are untapped resources of knowledge and experience with others just outside our generational comfort zones. Here are a few thoughtful ways to experience the gifts of perspective, connection and wisdom by forming multigenerational relationships.

Understand generational differences between life- and career-stages, communication preferences, and skillsets. This will place you in a mindset to spot and utilize the clear advantages offered by every generation, such as:
Baby Boomers - Offer experience, credibility and hard-won wisdom. Younger generations can benefit from openness to sharing these secrets. It's key for older generations to understand younger people have growing pains just like they did, and to focus on teaching over judging.
Generation X - Can help bridge the gap between boomers and millennials by translating ideas and information, which will encourage more cross-functional teamwork.
Millennials (or Generation Y) - Can offer new technical skills and a highly creative approach to their work and world. Older generations could benefit from such a treasure-trove of ideas as long as millennials realize the potential for even exchange in different areas.
Build community by actively participating in civic events, school sports, adult education classes or club functions that get different generations mixing. Take advantage of working, playing, collaborating or just sitting side by side with people where you can strike up conversations and learn.

Offer skills in trade. Whether you're older or younger, you have skills that someone of another generation may long to unlock. Mentoring and reverse-mentoring can vary in scope and duration, from teaching people Skype or Facebook so they can expand their social world, to learning to create a first resume and cover letter, to beginning quilting, painting or other skilled crafts.

Expand your network. Create a monthly mastermind lunch-and-learn and invite people from outside your friendship circle and typical associations. Ask neighbors of varying generations over for an afternoon potluck. Sharing stories, skills and backgrounds with each other, especially over a meal, can lead to great insights and deepening experiences.

Workplaces and communities are increasingly multigenerational, and these tips can help all age groups pave the way to more effective communication and bonding.



Sources: Forbes, Real Simple