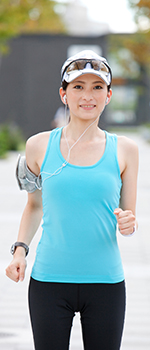 4 Fantastic Apps for Fitness Walkers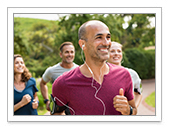 Regular brisk walking can help you strengthen bones and muscles; maintain a healthy weight; prevent or manage various conditions, such as heart disease, high blood pressure and type 2 diabetes; and improve everything from your mood to your balance and coordination.

Check out the unique features of four awesome activity-tracking apps below:

MapMyWalk is one in a suite of apps offered by workout-wear manufacturer Under Armour. It can be used by itself or with your smartwatch, and incurable gearheads can sync with their Under Armour Smart Shoes. You can also track over 600 other types of activities as your fitness progresses. Free for iOS and Android with premium features starting at $5.99.*

Walkmeter automatically records the weather, graphs your workouts and stores an incredible amount of comparative data, so you can design a more effective training plan. Includes audible voice updates with your time, distance, speed and heart rate. Integrates with websites and apps like dailymile, Strava and MyFitnessPal. Free for iOS and Android with premium features starting at $9.99.*

Argus isn't just any activity tracker, it's a total lifestyle app. In addition to the workout features and an all-day pedometer function, you can track your sleep cycle, heart rate and calorie intake with a label barcode scanner so you don't have to manually enter everything you eat. Premium subscribers can enjoy custom fitness plans based on their goals. Free for iOS and Android with premium features starting at $4.99*

Charity Miles helps your favorite charity while helping you get fit. Download the app and choose an activity. For every mile you complete, you will earn money for one of the 40 charity partners of your choosing. Funds are provided by corporate sponsors who have repurposed their advertising budgets for social good. Share your activity on Facebook or Twitter, and form teams to work together for the better! Free for iOS and Android.*

Try one of these helpful and healthful apps today!

*Prices and availability current at time of writing.