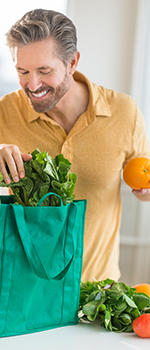 Best Bets for Grocery Deliveries
By Pat Mertz Esswein, Kiplinger.com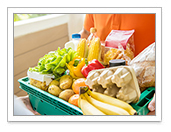 We picked the best deals for home delivery of groceries given three scenarios:

You want to restock staples or household items: On orders of $35 or more, Walmart offers millions of items with free, two-day delivery in the contiguous U.S. (look for the "2-Day Shipping" flag). If you can wait a little longer, Walmart offers additional items with free three- to five-day shipping.

You need quick delivery of fresh or frozen items: You can get your groceries delivered within one hour with Instacart, but you can also schedule delivery up to five days in advance. The service partners with more than 190 retailers, including national and local chains, and is widely available throughout the U.S. (except in Montana, South Dakota and Wyoming). You'll pay a $10 fee on orders of less than $35, or a $6 fee on orders of $35 or more. Instacart also offers a membership plan: If you pay $49 for the first year and $99 a year thereafter, you get unlimited deliveries for orders of $35 or more -- worth considering if you place orders a couple of times a month.

Amazon Prime Pantry (for Amazon.com Prime members) charges a monthly fee of $4.99 (after a 30-day free trial) for free delivery of orders worth $40 or more, or a flat $7.99 per order. If you get at least two deliveries a month, the monthly fee can be worth paying. Delivery takes one to four days.

You are a warehouse club member: Costco offers free same-day delivery via Instacart to its members on orders of $35 or more (prices will be marked up, however). Costco also offers two-day delivery of non-perishable and household supplies in most states through its own service. There's no minimum order and no fee on orders of $75 or more, but the service isn't available on weekends.



Reprinted with permission. All Contents ©2018 The Kiplinger Washington Editors. Kiplinger.com.


Prices current at time of writing.