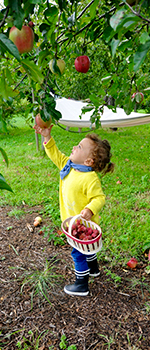 Family Fall Time Fun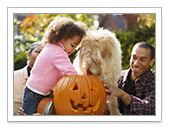 Fall is here! Celebrate the season with activities that can encourage excitement, imagination and education for everyone in the family.

Apple picking can be more fun than a barrel of ... well, apples! Many orchards also offer other activities, so you can make a day of it, including fresh food, cider and gift shops for holiday presents ranging from apple butter to artwork. Activities for kids can include petting zoos and tractor rides. Check reviews online for insider tips, like the best times to avoid crowds.

Pumpkin carving is an activity the whole family can enjoy. For best results, brush up on your pumpkin carving skills before cutting loose. Clever carving templates can be found online and printed, or each member of the family can make a pumpkin that resembles themselves. Younger children who can't safely handle cutting tools will enjoy using cookie cutters to punch out a design or painting their pumpkins with inexpensive craft paint.

Costume parades and fashion shows are a fun way for family members to act out in costume. Stream some seasonal "runway music" for fun ("Monster Mash," anyone?). DIY costumes can be made by cutting and decorating old clothes you already have on hand, or you can show off old costumes from previous years.

Family hikes or bikes around the neighborhood to view Halloween decorations before the big night is a great way to bond and enjoy your neighbors' creativity without trick-or-treating crowds. Plus, it's easier to impress safety habits on kids when you don't have to compete with a sack of candy for their attention.

Hayrides, corn mazes and haunted houses are a fun way to get into the spirit of the season. Check out the venues online and read reviews before taking little ones, as some can be too scary or challenging. Make sure to bring a charged cell phone or backup battery and take lots of photos.

We hope you will enjoy these festive fall activity suggestions!