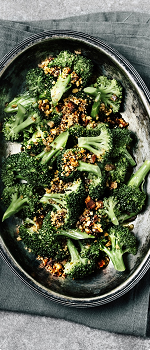 Start the Year Eating Healthy With This Delicious Recipe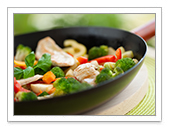 If one of your New Year's resolutions is to get in shape, you'll find it's much easier when you eat healthy. Fortunately, eating healthy doesn't have to mean eating plain. With some healthy and delicious recipes, you'll find it easy to eat healthy and enjoy your meals.

Chicken and broccoli stir fry is a classic dish that combines lean protein, plenty of fresh vegetables, and a savory sauce. Even better, it's a dinner you can have on the table in about 30 minutes, which is ideal for those busy evenings when you would normally stop by the Chinese restaurant for takeout.

Chicken and Broccoli Stir Fry
1 tablespoon vegetable oil
2 cups broccoli florets
1 cup sliced mushrooms
1 teaspoon minced garlic
2 teaspoons minced ginger
1 pound boneless skinless chicken breast, cut into bite-size pieces
Salt and pepper, to taste
1 teaspoon soy sauce
1/4 cup low-sodium chicken broth or water
1 teaspoon soy sauce
2 teaspoons toasted sesame oil
1 teaspoon sugar
1 teaspoon cornstarch
How To Make It
Heat the oil in a large frying pan. Add the broccoli and mushrooms and cook until tender.
Add the garlic and ginger and cook for 30 seconds.
Remove the vegetables and set them aside.
Season the chicken with salt and pepper, and add the chicken pieces to the pan. Cook until each side is golden brown.
Add the vegetables back to the pan and cook until they're warm.
In a small bowl, whisk together chicken broth or water, soy sauce, sesame oil, sugar, and cornstarch.
Pour sauce mixture over chicken and vegetables and cook until sauce starts to thicken.
Serve immediately over rice, if desired.
Source: Dinner at the Zoo