It wasn't long ago when cell phones were the same size as old rotary phones. Big and bulky, their features included both a large antenna and a coiled telephone cord that connected the handset to a clunky base. But times have changed. Today's cell phones are a fraction of their old size, and they now support a variety of other functions, ranging from the practical to the purely fun.
With so many options to choose from, however, it's easy to become overwhelmed. Thankfully, we've done the research for you! All that remains is for you to choose which cell phone best fits into your life.
Getting Started
It's important to keep in mind that the primary job of a cell phone is to enable you to make phone calls. It sounds obvious, but with the myriad of choices for additional features, it's easy to get caught up in being hip, rather than focusing on what's practical. At YOU Magazine, we believe that whatever cell phone you choose, the first consideration should be how well it functions as a phone.
It's also important to note that most quality cell phones have only one or two additional features worth writing home about. It is very rare that you will find a phone that does everything well. While some phones may carry more features than others, it does not mean that all of them will work to your liking, or suit your needs. The lesson here is to really think about which features matter most to you.
Lastly, it is no secret that electronic products of any kind will never be more expensive than at the time of their initial release. If cost is a consideration, we suggest waiting 6 months before purchasing a phone that's new to the market. Use this time wisely by researching its overall quality. Thanks to the Internet, there is no shortage of trustworthy reviews on every cell phone available. Two such websites are www.cnet.com and www.pcmag.com. But remember, if your current cell phone enables you to successfully make phone calls, there is no hurry to purchase a new one.
The Options
Let's take a look at the many features available. Along with each listing, we have included a cell phone that performs that particular function quite well.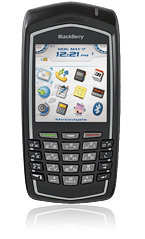 PDA
PDAs (Personal Digital Assistants) are electronic handheld organizers with the ability to send and receive emails. Because of these abilities, most phones that include a PDA (they are known as "smart phones") also share the characteristic of a dedicated keyboard. This feature generally adds to their overall size, making them considerably larger than other types of cell phones. While a good smart phone can be handy for fairly obvious reasons, there are a few, not so obvious downsides.
The first is the potential for poor call quality as it seems that many of the PDA combo phones carry the same rap – great for sending emails but the phone calls sound muffled. When shopping for a smart phone, be especially sure to research the phone's ability to make quality calls.
The second downside is an issue shared by other combo products such as TV/DVD players. The problem is if you break or lose the phone, you are immediately without a phone and a PDA. While the chances of this happening are somewhat slim, it's still something to think about.
When it comes to shopping for smart phones, there are several great choices. One of those choices is BlackBerry®, a name that's been at the forefront of smart phones since their inception. While there are several versions of the Blackberry, one that we find extraordinary is the BlackBerry 7130c™.
On the market for roughly a year, the 7130c is somewhat considered the crown jewel of the BlackBerry line. Sleek and slim for a PDA combo, it is nothing less than a great looking phone. But aside from its aesthetic beauty, the 7130c is a high quality phone with excellent call quality.
As with all BlackBerrys, it also manages email and web browsing quite well. While personal email must be accessed via your provider's website, a little help from your company's IT department will enable your BlackBerry to receive corporate emails in real time.
The 7130c does not include a camera or an MP3 player. It does, however, include features like a calendar, alarm, task list and a memo pad. For individuals who use their cell phone for business, or who travel frequently, the BlackBerry 7130c is a great choice.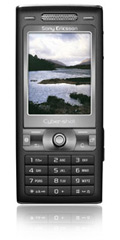 Camera
There are many reasons to have a camera included on your cell phone, ranging from the practical to the purely fun. We could chronicle all of them, but why bother? Only you know why and how you plan on using it.
Our focus, instead, is to bring you a camera phone that we believe to be a quality device. After all, what's the purpose of buying one if either feature is substandard, especially when high quality cell phones and digital cameras can be purchased separately and at very affordable prices?
If the camera feature is something you deem important, you may want to check out the Sony/Ericsson K790a. Superbly designed, the K790a sports simple yet attractive features. And, while its call quality is great, its camera function is even more impressive! The sad irony is that this wonderful camera phone does not have world phone capability, making it impractical for any globetrotters.
The K790a does, however, boast a Cyber Shot-branded, 3.2 megapixel camera. Its related features include auto-focus, 16x digital zoom, Xenon flash, and image stabilizer. The camera also functions as a video recorder and is equipped with something known as PictBridge Technology. This gives you the ability to hook your phone up to a printer (via USB cable) and print pictures without the need for a PC.
The K790a also comes equipped with an MP3 player. But let's face it, this is not the reason you are buying this phone. Think of it as a great camera phone that does a decent job of playing music.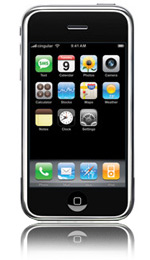 MP3
We're going out on a limb on this one but for very good reason. When you talk about MP3 players, one name is at the top the list – iPod. So, it only seems logical to recommend Apple's new iPhone as a great choice. The problem is the iPhone will not be available until June. To make matters worse, the only person who's even seen the iPhone up close and personal is Steve Jobs, CEO of Apple Computer.
Despite all the "what ifs", most experts are still excited about the iPhone's potential. According to Jobs, the iPhone promises to be 3 state-of-the-art devices in 1: a wide-screen iPod, a revolutionary phone, and a breakthrough Internet device. But, believe it or not, the feature that has people the most excited is the iPhone's keypad.
In lieu of a dedicated keypad, the iPhone will contain a whopping 3.5-inch widescreen display that will double as a keypad during certain functions. Jobs and his design team felt that dedicated keypads not only take up a lot of space, they're rather cumbersome to use. By making the keypad a multi-touch display, he not only created a wider screen, he simplified the interface. If the expectations of the iPhone become reality, it could be one of those special cell phones that can do many things well.
The phone function will reportedly include some interesting features, such as the ability to see all of your voicemail messages and then choose their listening order. The widescreen iPod also promises to be awesome – all the features associated with a traditional iPod but now with a much wider screen. As far as the web browser is concerned, Apple promises it will be the most advanced on any portable device, especially when it comes to properly displaying web pages. The iPhone will also feature a 2-megapixel camera equipped with a state-of-the-art photo management application.
Apple will be charging $499 for iPhones with 4 GB of flash memory and $599 for versions with 8 GB. This may sound like a lot but remember, many smart phones cost close to that amount. If the iPhone delivers on Steve Jobs' promises, it will make $600 for a phone seem like a great deal.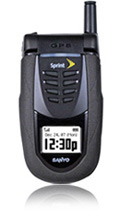 GPS
At first thought, having GPS (Global Positioning System) on your cell phone may seem a bit excessive. But what if you do a lot of job-related traveling in rental cars that aren't equipped with GPS? Then you might be glad to have it. The same can be said for someone who enjoys outdoor activities like hiking or camping.
If this sounds familiar, than you'll definitely want to look in to the Sanyo SCP-7050. While it may not be the most attractive phone, it ranks high in both durability and practicality. Speaking of durability, the SCP-7050 actually complies with military standards for dust, shock, and vibration.
As a phone, the SCP-7050 has superb call quality for both the handset and the speakerphone. It also has the ability to act as a nationwide walkie-talkie, as it fully supports Sprint's Ready Link service. It may not have a camera or an MP3 player, but it does include all the basics as well as a web browser.
Buying the SCP-7050 for its aesthetics is questionable. If, on the other hand, you're looking for a durable phone with excellent call quality and the ability to guide you between destinations, it's a great choice.
While the overviews you just read may have sparked your interest in buying a new cell phone, they merely scratch the surface of the options available. It's important to first ask yourself what features you need or which ones will best fit your lifestyle. Then, utilize the Internet to seek out what the experts are saying, as well as where to get the best deal. And remember, if your current phone still does the job, there's no hurry to get a new one. Unless you just can't resist!