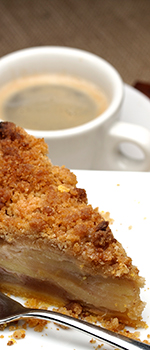 Cinnamon Apple Crumb Cake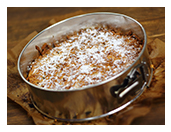 If you're looking for the perfect way to use some of those fresh apples you have at home, check out this delicious cinnamon apple crumb cake recipe:
Ingredients
Crumb topping:
1/2 cup of melted butter
1 1/4 cup of all-purpose flour
1/2 cup of chopped walnuts
1/3 cup of granulated sugar
1/3 cup of light brown sugar
2 teaspoons of cinnamon
Cake:
2 cups of all-purpose flour
1/2 teaspoon of baking soda
1 teaspoon of baking powder
1/2 cup of room temperature butter
1 tablespoon of vanilla extract
3/4 cup of granulated sugar
3 large eggs
1/4 cup of Greek yogurt
2 tablespoons of milk
2 medium, thinly sliced apples
Directions
Preheat the oven to 350ºF. Coat a 9-inch springform pan with cooking spray and set to the side.
Create the crumb topping by using a fork to combine the all-purpose flour, walnuts, granulated sugar, light brown sugar, and cinnamon in a medium bowl. Use the fork to stir the mixture while you slowly pour in the melted butter. Crumbs will begin to form. Use the fork to break apart any large clumps. Place the bowl in the refrigerator to chill while you make the batter.
Create the cake batter by whisking together the all-purpose flour, baking soda, and baking powder.
In a separate bowl, use an electric mixer to beat the butter for two minutes or until it's fluffy. Add the vanilla extract and sugar, and continue beating for another two minutes. Add the eggs, one at a time, until they're thoroughly mixed in.
Add the dry ingredients to the wet ingredients in three parts. Add the Greek yogurt after the first part, and add the milk after the second part. Make sure you don't over mix.
Spread the batter into the greased pan. Top with the apple slices and crumb topping. Bake for 45 to 55 minutes. Let cool for 15 to 20 minutes before removing from the springform pan.
Source: Littlespicejar.com