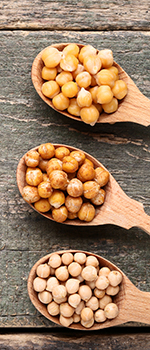 Chickpea, Spinach, and Sweet Potato Rice Bowl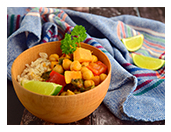 When the weather starts to turn colder, there's nothing better than enjoying some comfort food. You might think comfort food needs to be heavy and hearty, but there are also healthy and satisfying comfort foods. This versatile dish can be served cold or warm, and even if you don't have all the ingredients on hand, you can easily swap them out. For instance, you can use kale instead of spinach, roasted carrots instead of sweet potatoes, or quinoa for the brown rice.
This recipe yields three to four servings, and it takes only 15 minutes of prep time. From start to finish, the dish should take about an hour to prepare.
Ingredients:
2/3 cup brown rice
Salt, to taste
1 can of chickpeas
2 teaspoons olive oil, divided
1 tablespoon garlic powder
1 teaspoon turmeric
1/2 teaspoon cayenne pepper
Pepper, to taste
1 sweet potato
1/2 teaspoon cinnamon
Chili seasoning, to taste
2 garlic cloves, crushed
5 cups of tightly packed spinach
2 tablespoons tahini
Splash of lime juice
1 teaspoon maple syrup
Cook the brown rice. Add the rice and 2 cups of water to a pot and season with salt. Cook for 30 to 40 minutes or until the rice is soft.

Preheat the oven to 350 degrees Fahrenheit. Line a baking sheet with parchment paper.

Rinse, drain, and dry the chickpeas. If you want crunchy chickpeas, remove the skins. Combine the chickpeas with 1 teaspoon of oil, garlic powder, turmeric, cayenne pepper, salt, and pepper. Arrange the chickpeas on one side of the baking sheet so they're in a single layer.

Cut the sweet potato into bite-sized pieces. Place the pieces on the other side of the baking sheet, also in a single layer. Sprinkle with cinnamon and chili seasoning.

Bake the chickpeas and sweet potato for 25 to 30 minutes.

Heat the other 1 teaspoon of olive oil in a large pan. Add the crushed garlic cloves and saute for 2 minutes. Add the spinach and season with salt and pepper. Cook for an additional 3 to 5 minutes.

For the tahini dressing, combine the tahini, lime juice, maple syrup, and a little water.

Mix the rice, sweet potatoes, chickpeas, and spinach in a large bowl, and top with the tahini dressing. Enjoy!
Source: Greenevi.com