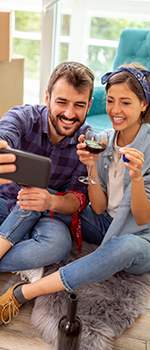 How To Safely Celebrate Your Home Buying Success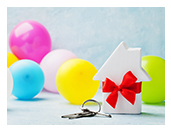 Congratulations! You've purchased a home, and understandably you want to celebrate this wonderful occasion. Unfortunately, during this pandemic it hasn't been safe to gather with loved ones and friends to celebrate. The biggest concern has been to keep everyone safe without spreading germs, and that's difficult to do if you want to host a party where people gather to eat, drink, and laugh.
Just because the country is encouraged to remain socially distant, it doesn't mean you have to abandon your dreams of having the best housewarming party. It just means you need to be a little more creative in your celebrations.
Host a Zoom party. By now, everyone knows what Zoom is, so it should come as no surprise that this virtual way of gathering works for housewarming parties. What better way to show off your new abode than by taking your friends and family on a guided tour via technology. You can also record the walk-through of your home beforehand and send the video along with the Zoom link a few weeks before your party.
Take your party outside. Weather permitting, schedule your housewarming party outside. Social distancing is a lot easier to deal with in outdoor living space. Set up separate stations for food, drinks, and gifts. Consider setting up a few outdoor games to keep people entertained.
Divide your guest list. Sure, you can't host a party of dozens of people, but if you feel comfortable, break down your guest list into small groups of between five to ten people. Invite them to stay for an hour, and then another group can stop by after you clean and disinfect.
Drive-by party. Invite friends and family to a drive-by party at your new residence. Schedule a specific day and time where people can drive by and see your home's exterior. If you're comfortable having one car-load of people come inside at a time, encourage your guests to stop by and walk through. Have a table set up outside if guests want to bring you presents, and hand out party favors to thank them for coming.
Buying a home is a reason to celebrate, even if there's a pandemic going on. Your housewarming party won't look like you originally planned, but that doesn't mean you can't host an amazing gathering. Head to your local crafts store or hop on your computer and get started on those party invitations.
Sources: Revelandglitter.com, Agiftpersonalized.com, Fry-wagner.com