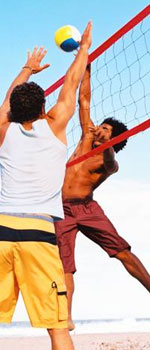 Bicycling: The Fun Fitness Solution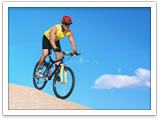 Thanks in part to Lance Armstrong and the Tour de France, many Americans have re-discovered the joy of bicycling in recent years. If you're an avid cyclist or even a weekend mountain biker, then you're well aware of everything the sport has to offer. If, on the other hand, it's been a while since your last bike ride, and you're looking for a way to put the fun back into exercising, or even commuting, then this article may be exactly what you need.

Before we get into the intricacies of bicycling, let's take a closer look at some of the benefits it has to offer.

Body
Bicycling has the potential to be an incredible form of exercise. To begin with, it is extremely low impact. It causes very little stress on a person's joints and is feasible for people of any age. It also enables those who suffer from conditions like arthritis to partake in an aerobic activity. It's been shown to improve cardiovascular fitness, strength, balance, and flexibility. Best of all, it burns calories!

Mind
Many people complain that gym workouts are repetitious and boring. The same cannot be said for either cycling or mountain biking. Unlike riding a stationary bike that's affixed to the floor of your gym, the various forms of bicycle riding allow you to change your environment on a daily basis.

Regardless of whether you are cycling for exercise or pure enjoyment, riding a bike is a proven stress reliever. The combination of fresh air, low impact movement, and the great outdoors is a winner when it comes to letting go of everyday tension.

Environment
Aside from its health benefits, riding a bike can also serve as a mode of transportation. By leaving your car at home, you'll be doing your part to reduce not only traffic but exhaust and noise emissions as well. Biking also cuts down on the consumption of fossil fuels.

Finances
Depending on the type of car you own, driving can cost upward of 20 cents per mile. If you were to ride a bike to run local errands, and those errands averaged 20 miles of weekly driving, you would save $208 over the course of one year. It might not sound like a lot, but the monetary total is based on some rather low figures. A bigger vehicle or more local errands will only add to your savings.

Convenience
Traffic conditions and parking availability aren't a problem when riding a bike. In addition, bike parking is typically located directly in front of most establishments.

Gearing up
Now that we've got you thinking about bike riding, let's talk about the most important piece of equipment – your bike.

For those who already own a bike, there's really no need to purchase a new one, at least not yet. This is especially true if you haven't ridden in a while and aren't sure if it is something you will want to continue. Instead, we suggest bringing the bike to your local bike shop and having it tuned up.

Just like a car, a bike requires regular maintenance. This is also the case for bicycles that have not been ridden in a while. Bicycle tune-ups can range from $30 to $100 (not including repairs), depending on the type of bike you own as well as its overall condition. While you may spend a hundred bucks or so to get your bike in riding shape, it's still cheaper than buying a new one.

For anyone looking to purchase a new bicycle, there are several options available. The easiest and most convenient is to visit a local bike shop. Most shops, even the smaller ones, carry a good selection of various types of bicycles. While prices may be a little higher in these establishments, the service and the knowledge of the staff is generally top notch. The people who work in bike shops are usually cyclists themselves and bring a good amount of expertise to the table.

Another option is to purchase a bicycle at a larger sporting goods store, especially one specializing in outdoor sports. Prices tend to be a little lower at such establishments, but service and staff knowledge can be somewhat hit or miss. This type of store is a good option if you know exactly the type of bicycle you wish to purchase.

One last option is to purchase a bicycle from a private party. People who are moving or who have lost interest in their bicycle will often advertise in free publications such as the Recycler or on websites like Craigslist or eBay. While private-party sellers generally offer the best deals, there are a couple downsides to taking this route.

The first has to do with the potential lack of a guarantee. This is a classic "caveat emptor" (buyer beware) transaction, and it should be dealt with accordingly. If you have no knowledge of bicycles, we recommend bringing along someone who does. Another option is to see if the seller would meet you at a local bike shop where it can be inspected objectively.

The second downside is the unstable nature of the transaction itself. We suggest that you never exchange money without receiving goods and never pay in cash. When possible, keep the transaction local and insist on paying with either a cashier's check or money order.

In terms of the type of bicycle you buy, much depends on the type of riding you plan to do. Bicycles can fall into many categories. Here are four of the broader classifications.

Road Racers
Made of lightweight frames, these bicycles are built for speed and designed for road racing as opposed to track or off-road racing. They feature multiple gears for hill climbing, and riders sit on slightly elevated seats, crouched toward the handlebars for increased aerodynamics.

Mountain Bikes
With heavier frames and wider tires, these bicycles are meant for either riding or racing on most off-road terrain. They also include multiple speeds, peddles with toe clips, and dense, no-slip seats.

Hybrid Bikes
These all-purpose bikes are designed for both the road and lighter, off-road terrain such as dirt or gravel. They are more comfortable than either road racers or mountain bikes, making them a great choice for beginners looking to make bicycling a part of their exercise regimen.

Comfort Bikes
While some comfort bikes look like mountain bikes, they are more comfortable than any of the aforementioned classifications. Comfort bikes are not as fast as hybrids or road racers, nor are they meant to handle harsh terrain. They are great for commuters or those looking for a leisurely ride.

Starting a Cycling Routine
Once you've gotten a bicycle that suits your needs, it's time to begin riding! Here are some tips to ensure a positive experience.

Consult Your Physician
This is good to do any time you start a new exercise routine, but it is especially important if you haven't exercised in a while, or you have a medical condition that is affected by exercise.

Play by the Rules
Your safety depends on understanding and following the traffic laws where you ride. Speaking of safety, the purchase of an approved helmet as well as brightly colored clothing is also highly recommended.

Slow and Steady Wins the Race
When beginning a cycling routine, it is important to take it slow. Limit the distance, the speed, and the frequency of your riding because doing otherwise could lead to injury or soreness. It also increases your chances of giving up on your new sport.

Practice Technique
The most important part of cycling is fluidity. In other words, even pressure should be applied throughout the entire revolution of every pedal stroke. As opposed to stomping on the pedals, practice pushing downward and then pulling backward and up. Doing so will not only increase your performance, but your aerobic conditioning and muscle strengthening as well.

It's important to know that in order for any exercise to be considered an aerobic activity, one's heart rate must reach a "target rate" (50% – 85% of its maximum rate) and remain there for 30 to 60 minutes. To learn more about your target heart rate, log on to the American Heart Association's website at www.americanheart.org.

It's very rare to find something that's a competitive sport, a form of exercise, a mode of transportation, and a method of relaxation all wrapped up into one. Now that you've been given some good information on the subject of bicycling, give it a try. Getting into shape has never been so fun!