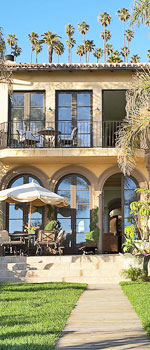 Indoor Projects for Summer:
Carole Talbott's Top 5 Picks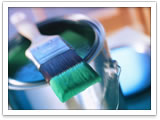 Summer is the season when we take advantage of our hard-earned vacation time. Just as in years past, some will opt to travel, while others will use the time to work on projects around the house. For those who've chosen the latter, have you thought about the paradox that lies ahead?

On the one hand, you finally have the time and energy to put toward your home. On the other, the outdoor heat can be excruciating. The good news is the solution for remaining cool while successfully taking on household projects is rather simple. Focus on some of the projects inside your house...where it's air-conditioned.

When it comes to a home's interior, there aren't many people with more insight than the woman known as the "Mother of Makeovers", Carole Talbott. A close friend of YOU Magazine, Talbott is the creator of Visual Coordination, a trademarked method for redecorating, streamlining, and organizing a home's interior. The best part – Carole's method utilizes only the furniture and decorations that already exist inside your house.

We posed this paradox to Talbott and asked her to come up with 5 indoor projects sure to improve the look and feel of your home. While Talbott says she considers these to be her "Top 5", she also says that they fall in no particular order. She claims instead, "It comes down to a home's need as well as your time and energy."

1. Paint Inside
Talbott loves this project for a variety of reasons, starting with the idea that people respond positively to the brightness associated with summer. She claims that painting is not only a great way to bring this feeling inside your home, but it also allows you to sustain it throughout the year.

Keeping with her philosophy, Carole suggests using lighter colors due to their ability to capture light. At the same time, she also recommends taking a chance. Carole says, "Everyone has a secret favorite color, a passion color." And while she recognizes that a "passion color" may not be the best choice for a family room, it is a great experiment in smaller areas like bathrooms.

"Follow your heart. It's only paint!", she exclaims. Achieving a visually-coordinated home is all about experimentation and, to Talbott, this means jumping in headfirst. This advice falls right in line with her next suggestion of painting the whole room or at least an entire wall, as opposed to testing out a color by painting a small spot.

"Testing a color doesn't paint a good picture of what it will look like," she puns. Talbott suggests that if you're really afraid, go a shade or two lighter than your initial choice. Paint not only dries darker, but it also appears darker when covering a larger surface.

Talbott advises that you not skimp on the quality of your brushes and rollers, as doing so will only lead to frustration. According to her, "An amateur can paint beautifully with the right equipment." In the spirit of not taking the easy way out, she recommends diligently taping off any molding before painting walls, boldly claiming, "It will make the difference between a professional and an amateur job."

2. Organize
Since the technique of Visual Coordination is somewhat based on organization, Talbott also loves the idea of reorganizing your home. Regardless of what she's organizing, Talbott says there are three important factors that she uses as her guideline: use, color, and function. Whether you're organizing or decorating, she claims that utilizing these factors will result in a finished product that looks good and makes sense.

Despite our promise to keep you inside the house, Carole says the area to organize first is the garage, pointing out that it's a much easier task during the summer than it is in winter. "Work on your garage during the evening hours when it's cooler," she urges.

If you have enough space, Talbott suggests organizing your garage seasonally. In other words, place summer items on one side and winter items on the other. She insists that this practice will make the rest of your year much easier.

Talbott says after you finish with the garage, the next stop should be the closets inside your home. Once again, she reminds us to use her guidelines for organization. She says the first upside to doing so will be the newfound ability to find things easily. Second, it allows you to easily determine which items to keep and which items to donate to charity.

The last stop in your organizing should be cupboards and drawers. "Take it one room at a time," she advises, as this could be a bigger project than you might imagine.

3. Prepare for Winter Projects
The best part about this project is it requires very little energy, as it's mostly about making detailed lists. From holiday cards and wintertime repairs to gift buying and the books you want to read, almost anything can be put into a list. Talbott suggests making these lists in the summer because it will save you time and frustration during a very busy holiday season. It's also good to keep in mind that a project such as list-making can take place anywhere: lying by the pool, sitting at the kitchen table, watching TV, even relaxing in bed.

Along the lines of planning ahead for the holidays, Ms. Talbott says the summer is a great time to collect boxes. That's right; boxes. She points out that once the holiday season hits, everyone needs boxes. Regardless of whether you're wrapping a present, sending a gift in the mail, or carting along food for a holiday party, boxes of all shapes and sizes come in very handy. Collecting them now keeps you from scrounging for them, or even worse, buying them come December. And now that you've organized your garage by seasons, you've got a perfect place to store them.

Lastly, Talbott advises that you keep your eyes open while doing any sort of department store or mall shopping. She's actually gotten into the habit of buying a good portion of her holiday gifts during summer shopping excursions, claiming that it saves her time and money at the end of the year. She also says that this practice has made her a better gift buyer. No longer does she find herself buying gifts in a rush or making spur-of-the-moment decisions.

4. Divide Your Recipes
Talbott is a firm believer that most people have different eating habits in the spring and summer months than they do in the fall and winter, stating, "Not only do we eat less, we eat different types of meals."

With this as her philosophy, Ms. Talbott says the summer is a great time to go through all of your recipes and divide them into two reference sources; fall/winter and spring/summer recipes. She says you'll rediscover meals you've forgotten and, in turn, do more cooking. This is yet another project that can be done at any time of the day, or in any location of your home.

Now that you've gained some culinary inspiration, it may also be a good time to streamline your kitchen as a whole. Go through your spice cabinets, pantry, freezer, and refrigerator. Toss the products that are past their expiration date as well as the ones that haven't been used in the last year. And while you're at it, take the time to organize these areas so they function optimally.

Once your recipes and your food are finally in order, the only thing left is to reevaluate your cooking equipment. If your non-stick skillet is nicked to the point where it's not so non-stick, buy a new pan and donate the old one to charity. How about your grill? Does it need a good cleaning or is it time for an upgrade. The point is that summertime is a perfect opportunity to reinvent yourself as a meal preparer.

5. Refresh By Rearranging
If there was a catch phrase to describe Talbott's craft it would be "Refresh by Rearranging", as her method for redecorating begins by taking every piece of furniture, art, and décor out of a room, creating an unobstructed view of the floor plan.

From there, Talbott begins to reposition furniture in accordance with said floor plan. Once the furniture is in place, she hangs the artwork. The puzzle is completed as she strategically places the remaining accessories and decorations.

If you think we've made Talbott's formula sound far too easy, you're probably right. Not to fear as she's chronicled her method for Visual Coordination in her book, Decorating for Good: A Step-by-Step guide to Rearranging What You Already Own.

Ms Talbott's advice for anyone looking to refresh a room by rearranging is to concentrate on the room as a whole rather than the individual parts. She says the tendency for most people is to move furniture around or maybe re-hang a few pictures. According to the expert, the only thing this practice creates is continual dissatisfaction as well as constant rearranging. She recommends her aforementioned technique of completely breaking down a room and starting from scratch.

Talbott also reminds everyone of her three-part guideline for organization: use, color, and function. She says that the grouping of like items is not only pleasing aesthetically, it's also the ultimate in function. Her fundamental goal when rearranging any room is to unify content with structure, claiming, "Any item placed inside a room automatically becomes an extension of the architecture." Keep this philosophy in mind, and you'll have a visually coordinated home in no time at all.

Good luck with your summertime projects, and here's to beating the heat!