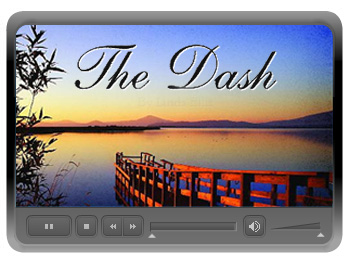 There are two numbers, the year we were born and the year we are laid to rest, that serve as a measurement of the quantity of our lives. The quality of our time here, however, is measured by the dash between those years. This month's Simple Truths video takes a look at that dash, and asks – are we making the most of it?
After our time on earth is complete, it's the people who loved us most who know what our dash is worth. They determine its value not by the money we accumulated, or how we spent it, but rather by the manner in which we lived.
The message behind this month's video is both one of reflection and action. Since we never know how much time we have, it's important to constantly seek out the improvements we need to make. By giving consideration to what matters most, we not only enhance our lives, we also increase the value of our dash.
Having compassion for others is one way to boost its worth. To do this, we must replace our anger and frustration with love and appreciation. We must make an effort to treat people with respect while also maintaining a smile on our faces and in our hearts. It's important to remember that our dash is only special because we don't know how long it will last.
The holidays are the perfect time of year to take a good look at our dash. We will not only spend this time reconnecting with loved ones, but we will say goodbye to 2007 and hello to a brand new year. These next few weeks will be our chance to embrace the message of the video and to put it into action. So, in the spirit of the season, we ask you to enjoy your holidays and do your best to make the most of your dash.
YOU Magazine is pleased to present The Dash, a short film produced by Simple Truths, a consumer-direct publisher of motivational books and films. Visit www.simpletruths.com to learn more about this unique company.