With house prices cooling, it may be time to upgrade to that dream home which suddenly appears within reach in this buyer's market. But with more property comes more mortgage – as well as more options and more pitfalls. The difference between a "conforming" and a "jumbo" loan could directly affect your monthly mortgage payment. To shed light on how loans are priced and sold, YOU Magazine turned to Barry Habib, an expert in the mortgage-backed securities market and CEO of Mortgage Market Guide.
Hot Potato
Mortgages, says Habib, are a lot like hot potatoes: no single lender wants to hold on to one for very long. Lenders – much like homeowners – want to make a profit on the loan as quickly as possible. The aim is to leverage that profit in order to lend out more money to borrowers and start the cycle again. Understanding this cycle is the key to understanding how mortgages are funded, valued, and priced.
Let's take a closer look at this cycle illustrated below.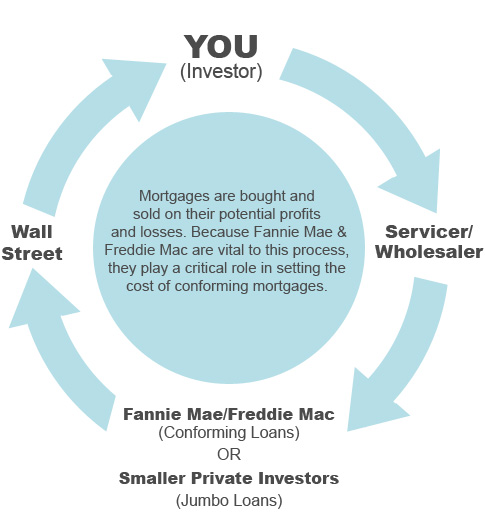 Step One: The cycle begins when a consumer secures a loan funded by a mortgage lender. The consumer is given a competitive interest rate based on a number of factors, including market conditions, the price of mortgage-backed securities, and the consumer's credit rating.
Step Two: Two of the biggest buyers of "conforming" loans – more on what that means in a second – are Fannie Mae and Freddie Mac. The lender takes its profit from the sale and then uses that money to make another loan, continuing the cycle. Fannie and Freddie, government-sponsored enterprises, pay a fee to the lender or other servicing company to collect the mortgage payments.
Each year Fannie and Freddie set a maximum loan amount they are willing to buy. Currently the conforming limit is $417,000 for most of the U.S. (but just to make matters more confusing, this limit may be changed temporarily this year in order to stimulate the economy.) Any loan exceeding this limit, even by one dollar, is considered a non-conforming or "jumbo" mortgage.
Step Three: The millions of loans purchased by Fannie and Freddie are bundled into investment instruments and sold to Wall Street investors. The Wall Street players securitize these bundles into mortgage-backed securities and then sell those securities to institutional and individual investors – including people like you and me who buy them in the form of money market funds, mutual funds, and pension funds. For every bundle sold and securitized there is a fee, which is absorbed by Fannie and Freddie and spread across each loan in the bundle. The more loans in a bundle the less the fee is felt by each loan.
Step Four: Investment fund managers and consumers buy and sell these securities based on their potential profits and losses, setting the market demand and the interest rates for the next home buyers who enter the cycle as well.
Now how about loans that aren't conforming?
Jumbo loans do not experience exactly the same cycle as conforming loans. These larger loans must be purchased by private investors, who don't buy in the same volume as Fannie or Freddie, so their bundles contain fewer loans overall. When they bring these bundles to Wall Street, they are hit with a fee just like Fannie and Freddie, but the fee must be spread among fewer loans.
Historically, jumbo loans are one-quarter to one-half a percentage point higher than the going rate for conforming loans. With the credit crunch and post-subprime mortgage market, however, it has become much more difficult to find an investor for jumbo loans. Therefore, the cost of these loans has recently increased one percentage point or more for conventional 30-year fixed rate mortgages.
What does this mean? Well, let's say you wanted to borrow $300,000 for a 30-year fixed–rate mortgage, you could pay 5.75% in today's market. Not bad, right? That's one of the lowest 30-year rates since 2005. However, increase the loan amount to $500,000 to $600,000 and your rate for the same 30-year fixed-rate mortgage could easily exceed 7.00% – and it doesn't matter if you have great credit or not because, with this type of loan, great credit is expected of you.
The first key to success in today's real estate market then is knowledge. While it's important that you understand at least the basics of this process, you must have a true mortgage specialist on your side to help you make the right decisions. This person should also have access to many suppliers of money. This may allow you to obtain a lower rate.
The second key to success is knowing and exploring all of your options. What about a piggyback loan: a HELOC, or closed-end second mortgage in conjunction with a conforming loan amount of $417,000? With short-term rates on the decline, you may be better off choosing to take a second mortgage with a higher rate than taking on a jumbo loan. Maybe a longer-term fixed-period ARM is right for you. These may offer you a lower – or at least a similar – rate to a jumbo loan. Ask your lender for a side-by-side comparison of loan options that show your total costs throughout the time you expect to have the loan in place.
Remember, what's right for others may not be right for you and vice versa, so anyone who offers cookie-cutter advice is not looking out for your best interest and is someone you shouldn't be working with. A professional loan officer should ask you some of the following questions before offering you anything. Without exploring this information with you, they cannot truly help you:
Do you have the ability to document your income?
Do you have the ability to verify consistent liquid assets? In other words, can you document checking, savings, investment accounts, etc. for the most recent two-month period?
What is your FICO score?
(If you're refinancing) What is the value of your home? Remember, home values have fallen in many areas recently, so the price you paid may not be what your home will appraise for now.
(If you're purchasing) What is the sales contract price?
How long do you intend to have the mortgage in place?
The third key to upgrading to that house you always wanted is action. Don't wait until the market changes directions again. Home prices are down across the country and rates are near historic lows. Find out if there is any way to use the market downturn as a stepping stone to the house of your dreams. Pay attention to new legislation that could increase conforming loan limits. But most importantly, contact a professional today for specific advice as to your particular scenario. The worst thing that could happen is you find out your current mortgage is the best option you have.