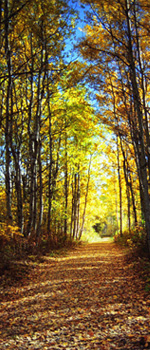 Finding Joy


In a perfect world, we would hear something once, record it in our brain, and never need to hear it again. We wouldn't need inspiration or motivation because we wouldn't have doubts, fears, and disappointments. In a perfect world, staying on track would be easy because we wouldn't need reminders of what matters most in life or what brings us joy.


Getting a Mortgage Today Doesn't Have to be Difficult


The credit crunch, the credit squeeze, the credit crisis... You've seen the headlines. You've heard about the government's $700 billion rescue plan to deal with it. But what does it mean to those looking to secure financing and take advantage of lower home prices? Can someone still get a mortgage in today's volatile market?

The New Tax Laws
A Quick Heads-Up for April 15th
April 15th may be months away, but you know what they say about time flying by. And, considering that most of us will file our returns before the actual deadline, tax season is pretty much right around the corner. In the tradition of keeping our readers one step ahead of things, we thought it would be a good idea to inform you of some of the new tax laws.


A Day of Thanks


Thanksgiving is almost upon us! This popular autumn holiday traces its roots back to early colonists landing in the new world. It took nearly 300 years, however, for Thanksgiving to officially become a national holiday in the United States. How did the Thanksgivings of old compare to todayís festivities?

Easy as Pie
A Guide to the Perfect Thanksgiving Dessert
By Kirk Leins
Thanksgiving wouldn't be the same without it. I'm not talking about turkey, or any of its dinnertime accompaniments. I'm referring to pie, a dessert so delicious you can't pass it up, regardless of how much you've already eaten. You simply loosen your belt and return to your spot at the dining room table, guiltlessly uttering the phrase, "I'll take a big slice, please."

Passive-Aggressive Behavior
A Dangerous Choice for Dealing with Anger
Within the world of modern psychology, it is somewhat commonplace to describe certain behaviors as passive-aggressive. While the definition seems almost plain as day, spelled out within the term itself, the question remains. What is passive-aggressive behavior?

What a Headache!
A Laymanís Guide to the Three Most Common Offenders
According to recent statistics from the National Headache Foundation, there are over 45 million Americans who suffer from chronic headaches. If you fall into this category you are surely familiar with the pain, as well as the other symptoms that accompany a headache. The question is, do you know what to do about it?