I have always been a strong proponent of credit card use for achieving and maintaining strong credit scores. However, it is mission-critical that you always live within and preferably below your means. But, the lure of consumerism with ease has caused so many Americans to exceedingly spend more than they make, causing them to fall victim to long-term indebtedness.
The statistics on consumer debt paint a grim picture. Per The Federal Reserve as of August, 2008, Americans held $968 billion dollars in consumer credit card debt. This number does not include loans secured by real estate, such as a mortgage. Another alarming statistic is that in the first quarter of 2008, consumer borrowing was at $34 billion, the most since the first three months of 2001, when the economy entered its last official recession. (Source: www.federalreserve.gov)
These numbers indicate that consumers need a clear understanding of consumer debt and relief options. Obviously, most people charge their lives away with the very best of intentions. Most people want to do the right thing. They want to provide themselves and their families the things they need, and even a few of the things they really want. And when you work hard, and you have every reason to think that your paycheck will come though over time and allow you to pay for those things, you go ahead and charge them. Very few of us look into the future and foresee a job layoff, a debilitating illness or accident, or some other economic circumstance that will deprive us of our ability to keep up with our bills. But these circumstances do happen and it is critically important that you know how to handle your debts should an unfortunate circumstance strike your world.
Understanding The Pitfalls of Consumer Debt
The first order of business for you is to understand the obligations and pitfalls of indebtedness:
Minimum Monthly Payments. The Federal Government approved credit card companies to increase the minimum monthly payment on credit card accounts from 2-4%. This was done in an attempt to lower the amount of consumer debt per household. How much breathing room does this leave you?
Credit's True Cost. According to CNN's credit card debt calculator, if you have a $10,000 credit card balance with an 18% interest rate, by making minimum payments only, it will take you 12 years and 3 months to pay off that balance. And in that time, you will pay a total of $5,463.25 in interest.
Universal Default. This is where credit card companies are allowed to increase the rate of interest you pay to the highest amount possible if your credit scores go down, or if you are late on another credit card account. This extremely punitive measure is the primary reason why consumers end up declaring bankruptcy, charging off, or entering into a credit-counseling program.
Spending Limits. Credit card companies give you a limit. Naturally, you would presume that you can spend up to your limit without being penalized. This is not the case. If you use up your limit, or "max out" your card, your credit scores will drop and all of your interest rates on ALL of your other cards will go up.
Creditor Communication. Most major creditors refuse to enter into any type of negotiation with consumers until they are in default status. This means that people have to incur several late pays and a charge-off before creditors are willing to talk to them about a solution. This is crazy.
So, there are a few traps out there. What are your options if you fall into a trap that finds you stuck in a consumer debt nightmare with no easy way out?
There are several types of debt relief programs offered by professional companies. It can be very confusing to readily understand the differences between the various options because they all seem quite similar to the casual observer. Your options are:
Credit Counseling (AKA: Debt Management Plan)
Debt Settlement
Debt Consolidation
Debt Negotiation
Bankruptcy
In my book, The Big Score – Getting It & Keeping It, I discuss these options in great detail, however, for the purpose of this article, I will be talking about the first, which is credit counseling, including how it works and how it will affect your credit.
Credit Counseling

If any two or three of the following items apply to you, credit counseling may be a good option.
You are living paycheck to paycheck and cannot get ahead.
You are still current on accounts, but will become past due very soon.
You are over the limit on your credit card accounts.
You have no, or very few late payments.
You have high interest rates that keep going up.
You are starting to receive collection calls from creditors or collection notices from collection agencies.
You do not have the time or skills to create a budget or money management plan that will work.
You are not comfortable dealing directly with creditors to find a solution to your current financial situation.
Credit counseling is a service provided by organizations to help consumers find ways to repay their debts through careful budgeting and management of money. Credit counseling is an industry that is under severe scrutiny and should be entered into with caution. In my book, I list several resources that will help you do your research in finding a reputable and trustworthy agency to help.
Only unsecured lines of credit are eligible for credit counseling plans. This includes credit cards, personal loans, medical bills, collection accounts, unpaid utilities, auto loans that have gone to repossession, and payday loans.
How Does Credit Counseling Work?
First, you have to select a credit counseling company to work with. Per the Federal Trade Commission, reputable credit counseling organizations advise you on managing your money and debts, help you develop a budget, and usually offer free educational materials and workshops. Their counselors are certified and trained in the areas of consumer credit, money and debt management, and budgeting. Counselors discuss your entire financial situation with you, and help you develop a personalized plan to solve your money problems. An initial counseling session typically lasts an hour, with an offer of follow-up sessions.

A reputable credit counseling agency should send you free information about the services it provides without requiring you to provide any details about your situation. If a firm doesn't do that, consider it a red flag and go elsewhere for help.

Be sure to check out your prospective credit counselor with your state Attorney General, local consumer protection agency, and Better Business Bureau. They can tell you if consumers have filed complaints about them. (But even if there are no complaints about them, it's not a guarantee that they're legitimate.) The United States Trustee Program also keeps a list of credit counseling agencies that have been approved to provide pre-bankruptcy counseling.
Once you have selected a credit counseling company that you trust, you will then work with the credit counselor to create a workable payment plan with all of your existing unsecured debt that fits within your budget. The overall budget and analysis process will also take into consideration your income and expenses.

When the plan is on paper, the credit counselor will work with you to negotiate reduced interest rates and payments with your creditors. They may even be able to remove late fees and penalties if you are already in default.
Once the new payment schedule is in place with the original creditors, you, the consumer, are responsible for making the agreed-to monthly payments to each creditor on time every month.

WORD OF CAUTION: If you default on the payment schedule that was implemented by a credit counseling company, you stand to lose all negotiated reductions and your interest rates, payments and fees will all reset to where they were when you first worked with the counseling agency.
If your debt is overwhelming or burdensome, the credit-counseling agency may speak to you about entering into a debt management plan (DMP) with them. Instead of paying the creditors directly as outlined above, this plan would allow you to make a lump sum monthly payment to the credit-counseling agency, and they would pay your creditors according to the agreed-upon payment schedule.

WORD OF CAUTION: Credit counseling agencies make a lot more money when consumers sign up for their DMPs, so it is common for credit counselors to mislead consumers into thinking that a DMP is their only option. You are not obligated to hire the credit counseling company to proceed with the debt management plan, especially if you believe that you are disciplined enough to stick to the payment schedule that was created during your credit counseling program. STICK TO YOUR GUNS. However, if you are very busy, or simply not good at paying your bills on time, it is recommended that you consider a DMP.
How Does Credit Counseling Affect Your Credit?
Credit counseling agencies are not creditors and they do not report to the credit bureaus. So it is a myth that by contacting a credit counseling agency, your scores will go down.
So it all depends mainly on your credit at the time you enter into credit counseling. If you're already past due on your bills, you have already incurred a severe penalty to your credit scores One 30-day late can cost 50-80 points from your credit score. If you have several accounts reporting late you can lose over 200 points. However, once you start making payments under the newly negotiated payment schedule, they will become current, and your scores will start to improve over time, as the late-pays age out. Now, if you are current, and have not incurred any late pays, then credit counseling and debt management plans will not affect your credit scores, provided that you remain current.
One item to note is that once you enter into a negotiated payment schedule, all of your accounts will be closed. As discussed in chapter 7 of my book, open credit card accounts make up for almost 30% of your credit score, so unless you have open accounts that are not under credit counseling, you will lose points for not having any open accounts. The good news is that you can open a secured credit card account almost immediately to start rebuilding.
WORD OF CAUTION:Be aware that if you enter into a debt management program with a credit counseling service, and you hire them to pay your creditors in a workout plan, if they pay that creditor late the creditors will report a late pay and your scores can drop instantly by as much as 80 points. There is nothing you can do about it short of suing the credit counseling company. This is why I want you to be certain that you conduct a thorough background search, work with the most reputable firm you can find, and be very deliberate and cautious before you turn your financial well-being over to anyone.
When it comes to how credit counseling and DMPs are reflected in your credit reports, you can expect that debt management plans will show up as "Account handled by CCCS" or "Account on DMP," as a note or comment added by the creditor. This note intends to discourage lenders from enabling the individual to add additional lines of unsecured credit. However, it should not affect a borrower's ability to obtain a secured loan, such as a mortgage or car loan, and this note will not affect your credit scores. Once the plan is completed, the note will be removed. If you enter into such a plan, make sure that you request copies of your reports once you have paid balances in full in order to make sure the note has been removed.
Pros of Credit Counseling
You will have a repayment plan that you can live with, that will give you instant relief from your burdensome debt; one that would be very time consuming and difficult for you to negotiate on your own because creditors very rarely work with consumers directly to renegotiate interest rates and payments when consumers are in trouble.


You will be free of the stress of not being able to make your payments. You will be able to focus on the important things in life such as your family and your work without worrying about paying that stack of bills.


If you have not fallen behind on your accounts before entering into credit counseling, then your scores will only be affected very little due to the closing of your accounts. However, if you are in default, creditors will stop reporting you as late, once you start making payments on the newly agreed to schedule. This way your negative history can start aging out.

CREDIT TIP: Before you enter into any agreement with a credit counseling firm: 1) make sure that you call your creditors to confirm the acceptability of the agreements the counseling firm has proposed, and 2) make sure that the creditors will, in fact, stop all negative reporting when you begin the new payment schedule.


Because of your efforts, you will stay in the good graces of your creditors and they will most likely be willing to do business with you again.
Cons Of Credit Counseling
A successful credit counseling or debt management plan could take 48-60 months to complete. Many people have trouble knowing where they will be in the next month, let alone, the next 4-5 years. This is why the dropout rate is very high. To be successful, these plans require a significant degree of budgeting and willpower.


There are more scam artists out there then there are reputable companies. They give the impression that they are saving you money by getting your monthly payments lowered, when, in most cases, the debt is just being stretched over a longer period of time. Let's say your current payment is $500.00 and the total could be paid over a period of 24 months. With credit counseling your payment may drop to $250.00 – but for 48-60 months. You could end up paying more.


When entering into a credit counseling or debt management plan, in many instances you have to agree not to apply for any credit. That means that for 2-5 years, you cannot apply for a home loan, or re-establish your credit by applying for new credit to rebuild.

CREDIT TIP: Because all accounts included in credit counseling will be closed, I recommend that you do everything you can to keep at least one major credit card out of the plan so that you will continue to build your credit in other factors as laid out in chapter 7 of my book, The Big Score – Getting It & Keeping It.


If you decide to enter into a credit counseling or debt management plan and you decide at any point prior to the agreed end date to terminate the payment plan, unfortunately, because of the standards in the industry, creditors will not continue to honor the agreements that they had made with the counseling agency. All of your interest rates and payments will be reset to the original amounts immediately. And remember, by this point, all of your accounts had been closed and most of your credit card interest rates will be reset back to the highest amount allowed. It becomes a bigger mess than the one that drove you to the payment plan in the first place.


Credit counseling agencies are really working for the creditors and the banking industry from whom they make almost all of their profits. In addition to the fees that they charge consumers, their primary source of income comes from creditors. They receive a fee every time you make a payment. This is why once you stop making that payment, the creditors reset your account back to where it started. This double-dealing forces us to question: If credit counselors receive fees based on how much consumers pay, what is their motivation to help consumers reduce their debt?
Linda's Opinion
Credit counseling can be a great option for those who suffer financial setbacks, and I support this option if you can find an ethical company to work with and you start early enough. If you do so, you can save your credit. Here are some great resources to do your research:
Mainly, however, my thoughts regarding credit counseling are that it is a good option for someone who is facing a temporary financial set back, someone who has strong self-discipline and patience. Long-term financial stress can lead to many problems and should be handled through another debt relief option, such as debt negotiation, consolidation, or at worst case scenario bankruptcy. Again, it is extremely important to understand all of your options before making a decision.
In Conclusion
If there is one action I want you to implement after reading this article, it is to keep your credit card debts in check, and at all times! Don't let your credit card debt get out of your control. Don't be so quick to swipe that card. Yes, I advocate that you use your credit cards, because I am a credit score expert, and the rules set forth by Fair Isaac & Co. are very clear. Consumers must have credit cards to maximize their credit scores. However, it is important that you always live within, if not below, your means.
The moment you sense a problem with your credit card debt, consider your options. If you feel that you would benefit from professional help, seek assistance from a reputable credit-counseling agency as early as possible. This is the best way to avoid long-lasting problems.
There are many opportunities to correct your problems before you reach the dead end of bankruptcy. If you need help, I strongly advise you to act quickly, decisively, and intelligently so as to avoid more painful avenues that avoidance will force.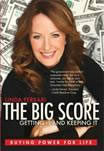 Linda Ferrari, author of The Big Score: Getting It & Keeping It, is a leading expert in the credit education and scoring industry. As Founder and President of Credit Resource Corporation, Linda has dug into more than 14,000 credit reports providing in-depth solutions through coaching and consultation to thousands of consumers and mortgage professionals. To learn more about Linda, visit www.LindaFerrari.com.