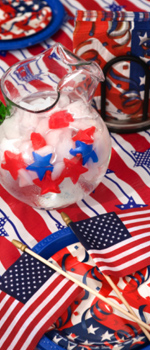 Get the Best from Your Homeowners Insurance
Give it an Annual Checkup!
By Leonard Baron, MBA, CPA, and author of Real Estate Ownership, Investment and Due Diligence 101
Annually you go to the doctor and the dentist, but what about your property and liability insurance professional? Do you consult with that person on a yearly basis, too?

Achieving Barbecue Prowess, Part II
Grilling the Perfect Steak
By Kirk Leins
Last month, we kicked off the summer grilling season with some recipes for marinades and tasty side dishes. This month, we're taking our grilling prowess a step further. We're going to learn how to grill a perfect steak.

Want to Provide Great Service?
Get to the Heart of the Matter
Actions that are driven by the heart play a big part in our personal relationships. The question is: What role do they have in business?

Tools and Tricks to Slay Your Home's Energy Vampires
They suck electricity even when you're not using them.
By Jeff Bertolucci, Kiplinger.com
They are the night stalkers: vampire appliances (TVs, computers, DVD players and cell phone chargers) that siphon energy around the clock, even when idle. The average U.S. home has 40 such devices that draw power continuously and account for nearly 10% of home energy use, according to the Lawrence Berkeley National Laboratory.

Summertime Eating Tips, Part 2
What Are You Really Eating?
Last month, we shared six concepts that will help you improve your eating habits not only during the summer, but anytime of year. This month we want to explore one of those concepts even further so you can learn more about what you're really eating!

Say Cheese
12 Tips for Taking Perfect Pictures
Summer is officially here, and whether you are counting the days to a much needed vacation or getting ready to attend a family reunion or friend's wedding, one thing is clear. Your camera is going to be working overtime this season!