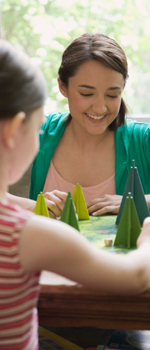 Thinking About Hiring a Nanny?
Here's the Perfect Checklist to Help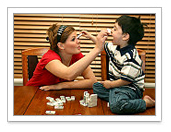 In August's issue of YOU Magazine, Blythe Lipman, author of Help! My Baby Came Without Instructions, shared her wonderful checklist for finding the perfect preschool for your baby. This month, she's back by popular demand! Read on to see Blythe's wonderful checklist for choosing the perfect nanny.
Parents, below are questions and discussion points you can use during your interviews with potential nannies. Remember, the goal is to find the person you think will be the best caregiver for your child–someone you really trust–so you want to be as thorough as possible.
Nanny Checklist
What kind of infant care experience do you have?
Please provide me with job history and performance.
Please supply me with four references and phone numbers.
Please supply me with your CPR and First aid certification and any other certificates you hold. (Workshops, etc.)
Please supply me with your TB test or chest x-ray documentation.
Please describe your health history.
Do you take daily medication which would interfere with your job performance?
Where do you live and how long will it take you to get here. (Unless it's a live-in position.)
Describe your personality.
Why do you want to be a nanny?
What are your dietary habits?
Do you smoke?
Do you have any allergies?
What hours can you work?
Do you have any trips planned where you will need time off?
What kind of car do you drive?
Please supply me with your driver's license and insurance card.
Talk about properly installing the car seat in her car.
Talk about taking the baby in the car: where and when?
Discuss who pays for gas.
Please provide me with a list of emergency numbers. (Work, cell phone and pager)
How will you play and interact with the baby? (singing, dancing, going outside, etc.)
If the baby starts to cry, what would you do?
If the baby is irritable, what would you do?
If you are bathing the baby and the doorbell rings, what would you do?
Discuss the schedule and needs of the baby.
Discuss the nutritional needs of the baby and stress EXACTLY what foods or formulas the baby may have.
How would you know if the baby is sick?
Discuss any other household responsibilities. (Laundry, dishes, etc.)
Discuss the daily responsibilities the job will require.
Discuss child proofing the house. Does he/she understand what is safe?
If you have a pool, TALK ABOUT YOUR RULES!
Do you know how to swim?
Do you know how to do life saving techniques?
Talk about your house rules including telephone use, inviting friends to the house, and any other rules that are not up for negotiation.
Is there anything you won't do?
Do you have any questions?
When can you start?

Blythe Lipman is the president of Baby Instructions. She is passionate about babies, toddlers and their parents. After working in the field for over twenty-five years, she wrote her third award-winning book, Help! My Baby Came Without Instructions, which is available at www.babyinstructions.com. You can hear Blythe's weekly radio show on Wednesdays, 11:00 a.m. EST at www.toginet.com. Blythe is available for in-home, video and telephone consultations. © Blythe Lipman 2011.