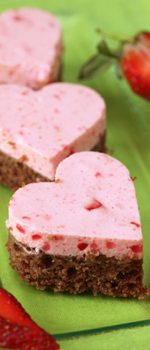 What's Labor Got to Do with It?
The Impact of the Job Market on the Housing Market
Being unemployed, under-employed, or afraid of losing a job is never easy. One of the first things many people do in these situations is batten down the hatches and minimize their spending. Certainly, the last thing on their minds is making a major purchase like a house. It's just not a commitment that most people are willing to make when they lack confidence in their financial stability.

Take Heart
Fight Heart Disease and Live Longer and Healthier
On Friday, February 3, 2012, thousands of people across the country joined together at companies and organizations as part of National Wear Red Day. The event is designed to help raise awareness and fight heart disease. But it's important to remember that the concerns over heart disease aren't limited to one day.

Healthy Eating in 2012
A Few Ideas for Getting Started
By Kirk Leins
The holidays have come and gone, and we are well on our way into a brand new year. I realize that I've just stated the obvious. I also realize that you're probably wondering how it relates to the subject of food. For me at least, the first part of the new year means attempting to cleanse my body after two crazy months marked by decadent eating.

Build a Bigger Net
By David Ackert, Founder, Practice Boomers
I smiled when I saw Frank's email pop up in my inbox. The subject line read ''lunch.'' It had been roughly three months since he and I had seen each other, and he was building his net. Read on to learn why this is crucial to your personal and professional success.

New Rules for Light Bulbs Mean Lower Electric Bills
As federal energy provisions kick in, it means the end for inefficient light bulbs.
By Pat Mertz Esswein, Kiplinger.com
Chalk it up to progress, pollution control and energy security. In January, as more provisions of the Energy Independence and Security Act of 2007 kick in, Thomas Edison's brilliant invention, the incandescent light bulb, had to shape up or ship out. The old-style bulb is targeted for obsolescence because it converts just 10% of the electricity it uses into light and radiates the rest as heat.

Pet Insurance
Health Plans for Fido and Fluffy
Do you think of your pets as members of your family? Considering their propensity for affection and devotion, it's rather hard to feel otherwise. So, it's safe to say that you want the best for your animals, with the hope of ensuring their well-being for as long as you possibly can. Did you know that health insurance might be the key to making that happen?