If you're a regular subscriber to my blogs, you know that I write a lot about what you can do to improve your business development. Do this. Do that. Get more clients. Grow your business. But this week I'm recommending a course of inaction. Because I'm finding that all of this doing comes at a heavy price.
That's not to say that a busy life has no value. I am fully dedicated to the progress and profit of my business, and to the fulfillment of a personal mission that includes helping people. But while that all sounds sensible and noble, it's completely exhausting, and on some level, meaningless.
Yesterday, I experienced something extraordinary. After learning that my lunch meeting had been cancelled, I didn't go back to my office and work; I didn't take the extra hour to clear out my in-box; and I didn't wedge in a blog-writing session. I went to a park and did nothing. I'm not sure why I did it. Perhaps it was because I had worked through the weekend and was yearning for downtime. Perhaps I was overwhelmed by the horrifying notion that my life was rushing by and I was missing it.
Regardless, I left my phone in the car and sat in the grass for a while. I watched people eat their lunches. Joggers passed by. Some odd breed of bird squawked in the tree above me. I closed my eyes, and for a few minutes, I touched on a level of fulfillment that was far deeper than the satisfaction of an empty in-box or a shorter to-do list or a signed engagement letter. How ironic that an intangible experience could have so much more value than the tangible results I chase all day long.
I wish I could tell you that my business development was impacted in some meaningful way from this experience. It would be more thematically relevant to my blog if I could now segue into a clever strategy for client acquisition or topline growth. But this week, all I can tell you is that I'm grateful that my lunch was cancelled and that I intend to spend more time in parks. And as strange as that sounds, I'm convinced that doing nothing every once in a while will make me much more effective at what I do.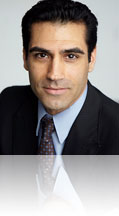 David Ackert is a business development consultant to service professionals. He is the founder of Practice Boomers, the e-learning program for lawyers, CPAs, and other advisors. You can follow his blog at www.ackertadvisory.com.