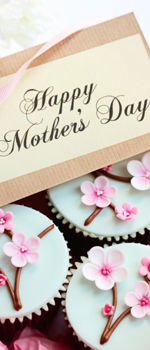 What In the World Is Going On?
How News Here and Abroad Impacts Our Home Loan Rates
The world is certainly more connected then ever these days, and that's true well beyond the Internet. If you've been wondering what's been going on...and what things mean for home loan rates...here's the scoop.

Mother's Day Spa Lunch
Creating a Special Day for the Mom (Or Moms) In Your Life
By Kirk Leins
Moms are the ultimate multi-taskers, oftentimes juggling careers with household and family responsibilities, which can leave them very few moments to themselves. That's why Mother's Day is mom's day to relax...completely.

10 Great Birthday Freebies
Find out where you can get a free treat or meal on your special day.
By Cameron Huddleston, Kiplinger.com
I love freebies – especially on my birthday. For my birthday this year my sweet daughter made me a gift certificate for a free massage, hair-do and makeover. And my husband promised to do a day's worth of yard work free of complaining.

Rock and Role Time Management
Effectively Finding Time for Self, Family, and Business
By Cris Lang, Maximum Acceleration Executive Coach and Franklin Covey Consultant
There was once a busy professional who kept bringing home unfinished office work just about every single evening. Finally, his son (who was in the first grade) asked, "Why, Daddy?" "Son," came the reply, "You simply don't understand. I have a lot of work to do, so much that I can't finish it all during the day." The son replied, "In that case Daddy, why don't they just put you in a slower group?"

Home Composting
Important Information for Getting Started
Composting your food scraps and yard waste goes a long way in lessening the amount of waste in our landfills and its impact on our environment. According to the United States Environmental Protection Agency, "Yard trimmings and food residuals comprise 23 percent of U.S. waste."

No More Jet Lag
Tips for Traveling Through Time Zones
With the weather getting warmer, many of us will soon be boarding planes and heading to far off destinations. For those who have experienced traveling to a different time zone, you are probably familiar with the aftermath known as jet lag. The good news is we can help you reduce, if not get rid of these negative side effects. Read on to find out how.