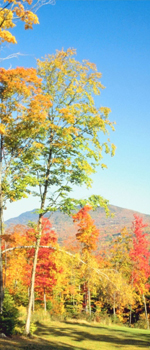 To QE or Not To QE?
That Is the Question
You may have heard rumblings in the news lately about something called Quantitative Easing, or QE3 for short. If you're in the market to buy or refinance a home, this is one story to follow. Read on to learn why.

I Scream, You Scream
We All Scream for French Vanilla Ice Cream
By Kirk Leins
Sweet, creamy, decadent and refreshing; is there any dessert more satisfying than a bowl of French vanilla ice cream? The only thing that tops it for me is when the ice cream is homemade. Back by popular demand, follow along this all-time reader favorite as I show you how to prepare this classic treat, as well as a few desserts that feature it.

How to Change Your Name
Here's the paperwork you'll need to tackle if you're newly wed or newly single.
By Stacy Rapacon, Kiplinger.com
Whether you're newly wed or newly single, if you opt to change your name, your new life will start with a big old mess of paperwork. After getting certified copies of your marriage certificate or divorce decree, you'll need to get a new Social Security card, driver's license (costs vary by state), passport ($110, if your current one is more than a year old), voter registration card and, if necessary, professional license.

Dress for Success
There's Only One Chance to Make a First Impression
You only get one chance to make a first impression. Cliché? Perhaps, but there is truth to this statement. And with the national unemployment rate stubbornly high for the last several years-and still lingering around 8.3%-job seekers especially know how important it is to make the right first impression!

Healthy Eating Tips
For School and Work Lunches
The summer-and the leisurely atmosphere it brings-has come to a screeching halt. Children have started back to school, and for many parents that means packing school lunches has become part of your weekday routine. Here are some great tips for keeping your children's school lunches and your work lunches healthy.

Revitalize Old Furniture
In Just One Afternoon
Have a dresser that's seen better days? An old set of chairs that are functional-but far from beautiful? Even if you're not handy, there are some easy ways to give solid furniture a lift.