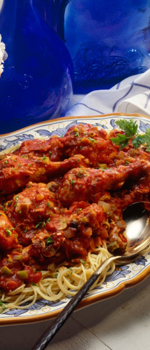 Slow Food
Relaxed Cooking for a Hectic Time of Year
By Kirk Leins
The term "Slow Food" refers to an eco-gastronomic movement that started in Italy in 1989. The primary goal of its founder, Carlo Petrini, was to undermine the popularity of fast food. Carlo and I may have the same agenda, but I'm going about it in a different way. Get ready to dust off your Crock-pots ladies and gentleman. It's time for some slow food.

The end of the year is always frenetic. We get a taste of this crazy pace around Halloween, followed by a slight reprieve during the first week or so in November. Our schedules ramp up again right before Thanksgiving, and by the time December hits...it's on!

I probably don't have to get into the particulars of your to-do lists because everyone reading these words knows just how busy their days and evenings are about to get. What I will say, however, is that many of us will undoubtedly sacrifice our nightly meal preparing in order to accommodate these demands. This is not good.

No matter if it's "fast food" or not, eating at restaurants several nights a week can reek havoc on both your waistline and wallet. The good news is it doesn't have to be this way. By using a slow cooker once or twice a week you can free up your schedule without sacrificing your home cooked meals.

A Little about Slow Cookers
Most of us have at least some experience with slow cookers. For those who don't here's a brief synopsis.

The slow cooker technology began when the Naxon Utilities Corporation of Chicago developed their Naxon Beanery All-Purpose Cooker. In 1970, Rival Industries purchased Naxon and reintroduced the product under the name Crock-Pot. The product name is now owned by Sunbeam Products, but slow cookers are currently being made by a variety of companies and are available almost everywhere.

The technology is fairly simple. A lidded cooking pot, usually made of glazed ceramic or porcelain, sits inside a housing that contains a thermostatically controlled electric heating element. This allows for any food placed inside the pot to cook at a low temperature for a long amount of time. The lid, usually made of glass, sits in a groove that collects vapor, creating a low-pressure seal and a consistent atmosphere inside the pot. That's it!

Slow cookers come in a range of shapes and sizes, as well as with some additional features on pricier models. The bottom line, however, is that most versions do a great job. When purchasing a slow cooker, I suggest beginning by figuring out the size that works best for you. The amount of people you generally cook for, as well as your available storage and counter space, will determine your decision. At that point, your best bet for finding the lowest price is to scour the Internet.

If you're wondering why you should be interested in a product that lengthens cooking time as opposed to shortening it, give me a moment to explain.

My first goal for this article was to come up with three slow cooker recipes that require little more than prepping a few ingredients and putting them into your slow cooker. That said, the 6 to 10 hours it takes to cook the upcoming recipes can be used to accomplish items on your holiday to do list without worrying about dinner. Your slow cooker is taking care of everything for you. All that's left to do is eat.

In addition, the recipes I'm putting forth yield a sizeable amount of food. This means there is the possibility of quality leftovers. I don't know about you, but when my schedule gets tight there's nothing like having a meal in the fridge that was prepared a day or so beforehand. I simply reheat the food, prepare a green salad, and a home cooked meal is on my table in minutes.

Lastly, most ingredients that do well when cooked low and slow have a tendency to be on the cheaper side. Less expensive ingredients, plus the ability to enjoy a meal over the course of a few nights, equals more money in your pocket. Include the fact that I have kept these meals on the healthier side and it's almost like you can't afford not to make them.

I hope you enjoy!

SLOW COOKER MEATLOAF (serves 4 to 6)

A super moist and incredibly tasty version of a traditional American meatloaf
2 lbs ground beef (20% fat)
2 large eggs, beaten
3/4 C whole milk
2/3 C breadcrumbs
1/2 onion, grated
1 celery stalk, chopped fine
2 garlic cloves, crushed or minced fine
1 tbsp Worcestershire sauce
1 tsp Italian seasoning or Herbs de Provence
3 tsp Kosher salt
1 tsp freshly ground black pepper
For the sauce:
1/2 C ketchup
2.5 tbsp balsamic vinegar
1 tsp Worcestershire sauce
1/4 tsp liquid smoke
1 garlic clove, crushed or minced fine
In a large bowl, thoroughly mix all of the meatloaf ingredients with your hands. Form the mixture into a loaf and place into the center of your slow cooker. Cover and cook on low for 5 to 6 hours.

Mix together all of the ingredients for the sauce. During the last 30 minutes of cooking, spoon the sauce over the meatloaf and increase the temperature on your slow cooker to high.

Remove the meatloaf from the slow cooker and allow it to rest for 5 to 10 minutes. Cut into slices and serve along with the side dishes of your choice. Any leftovers can be turned into excellent meatloaf sandwiches.

SLOW COOKER CHICKEN CACCIATORE (serves 4 to 6)

An unbelievably easy version of the Italian classic comfort dish
2 lbs boneless/skinless chicken thighs
1 onion sliced
1 green bell pepper, chopped
1 red bell pepper, chopped
4 cloves garlic, chopped fine
14-oz can chopped tomatoes in sauce (not juice)
6-oz can tomato paste
1 C low-sodium chicken broth
1/2 C dry white wine
2 tsp balsamic vinegar
2 tsp dried oregano
1 tsp dried basil
2 tsp Kosher salt
1/2 tsp freshly ground black pepper
Place all the ingredients except the chicken into the slow cooker and mix to combine. Add the chicken thighs, submerging them under the sauce. Cover and cook on low for 8 hours. Taste sauce and re-season if necessary. If you desire a slightly sweeter sauce, feel free to add 1/2 teaspoon or so of sugar.

Serve on top of pasta or rice.

SLOW COOKER YANKEE POT ROAST (serves 4 to 6)

The epitome of a "one-pot meal"
2-2.5 lb chuck pot roast
1 onion sliced
3 large red potatoes, quartered
2 cups baby carrots
8 mushrooms, halved
2 bay leaves
1 tsp dried rosemary
1/2 tsp dried thyme
3/4 C low-sodium beef broth
Kosher salt and freshly ground black pepper
Trim the excess fat from the roast and discard. Slice the meat into 1/2-inch thick slices and season both sides of every slice with salt and pepper.

Place the vegetables and herbs in the slow cooker and lay meat on top. Pour the broth over the meat. Cover and cook on low for 9 hours.

To serve family style, place the slices of meat on a serving tray and arrange the vegetables around it. Ladle a small amount of the broth over the meat and serve with horseradish, and a green salad on the side.

It's important to know that all of these slow cooker recipes are highly adaptable for your family's taste. Feel free to spice up these recipes anyway you'd like. In terms of the cooking times, each of these dishes will do just fine if they cook longer than the time allotted, giving you even more flexibility with your daily schedule. Who couldn't use that during a busy month?

Here's to slow food, slow cooking, and a happy holiday season!
| | |
| --- | --- |
| | Kirk Leins has been cooking his entire life. No stranger to professional kitchens, he currently devotes most of his time to cooking instruction, food writing, and producing television. Kirk also provides his services as a personal chef in and around the Los Angeles area. He has made several TV appearances on both the national and local level, and is the Executive Chef for YOU Magazine. Sign up for Kirk's free newsletter and cooking blog at www.NoTimeToCook.com. |