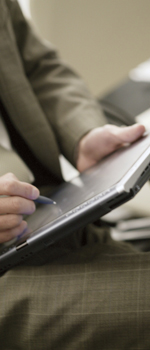 Got Apps?
Great Apps for Tablet PCs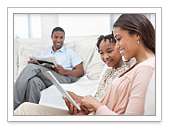 If you received a new tablet as a gift during the holidays or bought one during the after-holiday sales, you're not alone. Now that you're past the initial excitement of your new tablet device, you may start to wonder exactly what else you can do with it.

Here is a sampling of the best new apps, listed by category, to get some real productivity out of that shiny new device.

All The News and More
Tablets are great, but not for lots of typing. If you're pecking URLs in all the time just to get to your favorite news sources, it's wasting time. First thing to do is set up subscriptions to your favorite news sites with Google Reader. You can also set up news alerts for your favorite subject or person. If you're a blog-a-holic you can subscribe to multiple blogs using apps like Feedly, Reeder, and Flipboard. And with a desktop app called Pocket you can clip articles you find while surfing on your PC and synchronize them with your mobile or tablet device for later reading. Handy!

Keeping Up With the Joneses
You've got friends and they've got a lot to say. Keeping better track of them, while saving you loads of time, is what tablet devices are all about. Hootsuite is a must have application, if you want to track Twitter, Facebook, Google+, and lots of other social media platforms from one location. If you want to brag about your kids to family and friends but have concerns over security (as you probably should) learn how to create a Facebook list for kid related posts.

Pro-Level Productivity
The key to productivity on a tablet is to use it for specific tasks, choosing apps to connect more efficiently to your primary computer, rather than make it do the job of a full-featured PC. Evernote is a program that allows you to capture anything you see with your browser, and then synchronize it with every other device you own. To accomplish the same thing with your task list try Wunderlist or Remember the Milk. Mac users with iOS devices may like to try Things. If you're a Dropbox user, try their app. And if you want to open and read file types like documents and files from your device without having to purchase the native program, GoodReader is for you.

That's Entertainment!
Plex connects all your media servers like Netflix, Hulu, Amazon, and Pandora (all of which have tablet apps) as well as connected devices like PS3 and Roku. Should you have a burning need to figure out who "that guy" is during a movie, just grab the IMDB app for settling entertainment questions and kerfuffles. Most important, the RunPee app tells you the best time to go the bathroom during any movie, and fills you in on what happened while you were out so you won't miss a thing.

By Land, Sea, and Air...
Organize your travel and hotel itinerary and keep everything in one convenient place with Trip It. When you combine integrated map and GPS technology, the Yelp app will be indispensable for helping you avoid fast food while you travel–but only if you want to! GasBuddy is one of several applications that find the cheapest gas prices at upcoming pit-stops and you can get even more money-saving travel data (like advanced warning on speed traps) with Waze.

Kid Stuff
There are many more entertaining and lower-key options than the latest Angry Birds installment to keep kids happy and entertained for hours. Check out guessing games like Draw Something, or strategy games like Carcassonne. For younger kids, spelling games like Chicktionary are sometimes a better choice than well-advertised "level games."

Enjoy your new tablet!