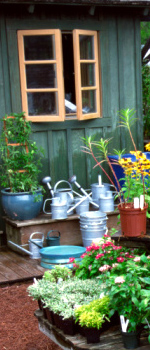 Putting Things in Perspective
Factors to Consider When It Comes to Your Mortgage
In last month's You Magazine, Barry Habib, Chairman of Mortgage Success Source, discussed how home loan rates may well buck the phrase, "March comes in like a lion and out like a lamb" due to the Federal Reserve ending its Mortgage Backed Securities (MBS) purchase program on March 31st. And the last week full week of March did in fact feel the "roar of the lion" as in two days, interest rates increased sharply following financial uncertainty and action within the bond markets.

A Traveler's Guide to the Airport
Tips to Save You Both Time and Money
Traveling the skies has changed dramatically over the last decade. Between a struggling airline industry and heightened security at the airport, taking a flight no longer equates to a walk in the park. Follow along as we share some tips for airplane travel that will save you both time and money at the airport.

Laser-Sharp Networking
3 Tips to Getting Precision Results from Your Networking Efforts
By Dr. Ivan Misner
Did you know that the energy put out by a normal light bulb is equal to the energy put out by a laser beam? A laser has a very tight beam and is very strong and concentrated. A light bulb, on the other hand, releases light in many directions, so the light is comparably weak and diffuse.

Managing Stress, Part II
The Dangers of Sugar and Caffeine
By Ingo Logé, PhD, CCN and Nutritional Life Coach
In last month's article, Managing Stress, Part I, I explained why sleep is such a crucial element in our body's ability to manage stress and feel energized. That's because when we don't get enough sleep, we are unable to repair the body and the nervous system becomes fragile. Our brains get tired, too, because the waking state is highly consumptive.

Lessons from Apologies in the Media
5 Secrets to Offering (and Judging) Apologies
By Emil B. Towner, PhD
Anyone who has paid attention to the news in recent weeks has seen a wave of apologies filling the headlines–from the CEO of Toyota to world-famous golfer Tiger Woods and even Pope Benedict's rare apology to victims of priest abuses in Ireland. Those apologies present an opportunity for people – especially parents – to examine not only what's going on in current events, but also what makes a good apology.

Breakfast, Lunch and Dinner, Part 2
Three More Quick and Delicious Meals
By Kirk Leins
If the title to this article seems familiar, it's because the first installment appeared four months ago in YOU Magazine's January 2010 issue. After positive feedback regarding the full day's worth of quick, healthy, delicious and inexpensive meals put forth, I thought what the heck. How about some more?

CES 2010 Revisited
Our Favorite Award Winners from the Consumer Electronics Show
This past January the annual Consumer Electronics Show (CES) was held in Las Vegas, where over 20,000 new products were showcased for the public. Of these items, 10 won CNET's Best of CES awards for being tops in their individual category. In the spirit of chiming in, we've profiled the award winning products we found to be the most interesting.