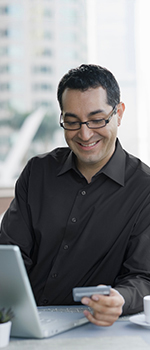 3 Things to Know Before You Shop on Etsy and Amazon

When purchasing from third-party sellers on sites like Etsy and Amazon, you'll deal directly with the sellers. In this short video, learn three things to be aware of when buying from third-party "shops" on both popular platforms, including:

Free shipping may not be included. If you have an Amazon Prime membership, you're probably accustomed to free two-day shipping. But only items that are sold or fulfilled by Amazon qualify for this feature, meaning shipping charges from third-party sellers vary.

Return policies may differ. If you don't like what you've bought from most stores, you can usually return it for a refund or exchange. Amazon and Etsy sellers, however, set their own policies, so be sure to review these carefully before you make a purchase.

Disputes can be difficult. While disputes are rare, neither Amazon nor Etsy has direct access to third-party transactions, adding a layer of complexity to resolving them.

Watch the video* below, then check out more tips for buying from third-party sellers on Etsy and Amazon.




*If you are unable to view the video on your mobile or tablet device, please enjoy it on your desktop.



Video featured with permission. All Contents ©2016 The Kiplinger Washington Editors. Kiplinger.com.