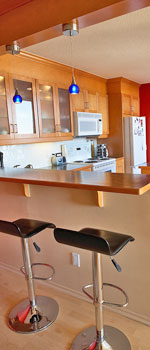 Cooking Without Fire, Part II:
Summertime Recipes to Help Beat the Heat
By Kirk Leins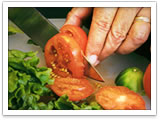 We're in the midst of summer and no matter where you live, chances are you're battling the heat. If my suspicions are correct, the last thing you want to read about is cooking dinner for your family, especially if it involves turning on your oven or standing over a fiery grill when it's in the triple digits outside. If this is the case, I urge you to read on because help is on the way.

In the June 2006 issue of YOU Magazine, I put forth the first installment in my annual series, Cooking Without Fire. In that article I offered up a complete menu, from appetizer through dessert, of recipes requiring no heat source. That's right, a full meal for you and your family to enjoy with no need to ever turn on an oven, a burner, or even light a grill. If this sounds like a good idea, than you'll be happy to learn I've done it again. Ladies and gentlemen, I proudly give you Cooking Without Fire, Part II.

The Appetizer
If you've ever eaten at a Greek restaurant or ordered a gyro (YIR-roe) from a Greek-run hamburger stand, then you've most likely eaten tzatziki (Tsah-TSEE-kee). For those who've never heard it referred to by name, I'm talking about the ubiquitous and delicious yogurt/cucumber sauce which Greeks use as a condiment on everything from meat kebabs known as souvlaki (soo-VLAH-kee) to French Fries.

I'm not joking when I say I truly love this stuff, mostly for its simplicity and deliciousness, but also for the refreshing quality it brings to summertime meals. Back in 2000, I spent a good portion of my summer traveling throughout Greece. It was quite hot that year, so needless to say I ate a lot of tzatziki.

I ate it with lamb souvlaki, as well as grilled Greek sausages known as loukanika (loo-KAH-nee-kah). I ate it on burgers and even scrambled eggs. I dipped pita bread, French fries, and calamari in it. You see where I'm going with this?

Oddly enough, the one food I didn't see tzatziki served with was gyros. That seems to be more of a Greek-American combination. In Greece, the gyro is slathered with a yellow sauce made of mayonnaise and mustard. However, that did not keep me from ordering a side dish of tzatziki and dipping my gyro in it when no one was looking.

The point here is that having tzatziki in your fridge is the equivalent of gold Krugerrands in your safe deposit box – well almost. Aside from the aforementioned combinations, tzatziki can be spooned onto a baked potato, mixed into canned tuna fish, and spread on a sandwich. And for you low-carbers, it's an awesome dip for crudite.

There are many keys to making good tzatziki, but one of the biggest is the use of a plain, whole milk yogurt, preferably one that's Greek-style. Greek delis, Trader Joe's markets, high-end grocery stores, and online purveyors are the best places to find this more authentic product.

Tzatziki
(1) 16-oz. container plain, whole milk yogurt (preferably Greek-style)
2 medium-sized cucumbers
2 cloves garlic, minced extra-fine
1/4 C extra-virgin olive oil
1 tsp kosher salt (plus extra)
Empty the yogurt over a fine-meshed sieve and place over a bowl, allowing any liquid to drain out. Preferably this should be done overnight, but a satisfactory result can be achieved in just a couple of hours.

Meanwhile, peel the cucumbers and halve lengthwise. Using a spoon, scrape out the seeds. Grate cucumbers into a bowl separate from the yogurt. Sprinkle the grated cucumber with kosher salt and allow it to sit for the same duration as the yogurt.

Empty the strained yogurt into a mixing bowl. Using paper towels, squeeze out any liquid from the cucumbers and add them to the yogurt. Add garlic, olive oil, and salt. Mix well and refrigerate for 30 minutes before serving.

The Entrée
When it comes to culinary offerings, gazpacho is often maligned. This is partly due to the umbrella term it falls under. I'm referring to "cold soup", a moniker that does nothing to improve gazpacho's bad reputation.

Soups are supposed to be hot, like coffee. When we chill coffee we don't refer to it as being "cold". Instead, we use a friendlier and more marketable term like "iced". I propose we do the same for gazpacho. From now on, gazpacho shall be known as a "chilled emulsion". Now, isn't that better?

Another reason for gazpacho's bad rap is the sad fact that many cooks, both amateur and professional, put forth fairly substandard versions. Some look and taste like a thick salsa while others end up watery and unbelievably bland. I always say that if you want to make a great version of any dish, you need to look at how it's made in its country of origin. In the case of gazpacho, the country is Spain.

The last reason for gazpacho's lack of "street cred" has to do with the proclivity towards overdoing both its accompaniments and adaptations. I've seen many a bowl with so much accoutrement that it's hard to tell that there's even gazpacho underneath. While there are worthy adaptations as well as condiments for gazpacho, they happen to be very simple in nature. This is not an extravagant dish, so don't over-think it.

Authentic Spanish Gazpacho (Serves 4)
3 large French bread slices, crusts removed
2 C very ripe red tomatoes, cut into large chunks
2/3 C onion, chopped
1 garlic clove, minced
1 C English cucumber, seeded and coarsely chopped
1 C red bell pepper, seeded and coarsely chopped
2 Tbsp good quality olive oil
1/4 C sherry vinegar
Kosher salt and freshly ground black pepper
1 small can of tomato juice
For garnish:
Finely chopped green bell pepper
Finely chopped red onion
Finely chopped English cucumber (seeded)
Place bread slices into a glass dish and cover them with water. Feel free to use stale bread for this purpose. Soak for 30 seconds. Using your hands, squeeze water from the bread and place it into the work bowl of a food processor.

Add the remaining ingredients (except garnish) to the work bowl and process for 2 to 3 minutes. Season the mixture with salt and pepper, and process for an additional 30 seconds. Chill for one hour or longer.

If necessary, thin the gazpacho to the desired consistency by adding a little cold tomato juice. Re-season if necessary and equally divide mixture into bowls. Garnish with chopped veggies and serve.

For an authentic Spanish experience, pass the chilled gazpacho through a wide-meshed sieve prior to garnishing. This process results in a thinner soup with a silky texture, common among the gazpachos served in Spain. Other toppings that are authentic to a Spanish gazpacho would be chopped olives, chopped hard-boiled egg, and homemade croutons.

As I stated before, gazpacho can be adapted. One of my favorite ways is to char the tomato, onion, bell pepper, and garlic by roasting them in the broiler prior to making the soup. I also like the addition of jalapeno pepper when doing this.

One last word about gazpacho; anyone who's looking to add a little protein to this dish can do so by picking up some precooked shrimp or lump crab meat from your fishmonger. Precooked seafood is not only a delicious garnish for the gazpacho, it also doesn't require you to turn on your oven!

The Dessert
One of my favorite childhood summer memories was playing Wiffleball in the street with my neighborhood friends. Oftentimes a car coming down the road would interrupt our games. While there was many a motorist who received piercing stares from every player, there was one driver who did not – the ice cream man!

It never failed. No matter how many times I told myself I was going to order something different, maybe a Drumstick or an ice cream sandwich, I always ordered the same thing. My weakness was popsicles, specifically Bomb Pops. You know, the frozen treat on a stick with the trademark red, white, and blue layers.

I'm happy to say, I've outgrown my taste for those overly-sweet treats. But that doesn't mean I feel the same about popsicles as a whole. They are ice-cold whimsy on a stick, and they are a perfect no-cook dessert for the summer. Here's a version that's ideal for kids of all ages.

Blueberry/Peach Popsicles (Makes 4 Popsicles)
2 large ripe peaches, pitted and sliced
1-pint fresh blueberries
6 Tbsp sugar
2 Tbsp freshly-squeezed lemon juice
3 Tbsp water
4 5-oz. paper cups
4 popsicle sticks
Place peaches in a food processor, and process until smooth. Using a sieve, strain the mixture into a bowl. Add 3 Tbsp of sugar, 1 Tbsp of lemon juice, and 2 Tbsp of water. Set aside.

Wash out the work bowl of your food processor. Add blueberries and process until smooth. Using a sieve, strain the mixture into a bowl. Add 3 Tbsp of sugar, 1 Tbsp of lemon juice, and 1 Tbsp of water.

Pour 3 Tbsp of the peach puree into each of the paper cups, and place in the freezer for 30 minutes. Remove from the freezer and add 2 Tbsp of the blueberry puree to every cup. At this point, poke a popsicle stick into the frozen center of each and carefully return to the freezer. Freeze for another 30 minutes.

Remove from the freezer, pour 3 additional Tbsp of peach puree into each cup, and freeze for another 30 minutes. Remove cups again and top off each of them with remaining blueberry puree. Cover with plastic wrap and freeze for an additional hour.

Remove popsicles from freezer 10 minutes prior to serving. Un-mold the popsicles by tearing off the paper cup. Time to be a kid again.

Oh, by the way. Let's say you were making these popsicles for an adult-only crowd. You could easily substitute the water with tequila, light rum, or vodka (regular or peach and blueberry-flavored, respectively). You may be tempted to add more, but don't, or else your popsicles will never freeze.

An Afternoon Pick-Me-Up
Remember how I was telling you I spent several weeks of a summer in Greece? While there, I discovered a chilled beverage that took the edge off the heat while providing a boost of energy in the mid-afternoon. I'm talking about Frappé, and if you've never had one, here's your chance.

Frappé (Makes 1 Drink)
1 Tbsp Nescafé coffee crystals
1/3 C water
2 Tbsp half and half
3 Tsp sugar
Place all ingredients in a blender and blend on high for 30 seconds. Pour into a 16-oz glass filled with ice cubes, and enjoy.

Just as every high school classmate I've ever had would write in my yearbook – have a great summer and stay cool!

Kirk Leins has been cooking his entire life. No stranger to professional kitchens, he currently devotes most of his time to cooking instruction, food writing, and producing television. Kirk also provides his services as a personal chef in and around the Los Angeles area. He has made several TV appearances on both the national and local level, and is the Executive Chef for YOU Magazine. His free newsletter, The Everyday Gourmet, is available by contacting Kirk at EGcuisine@gmail.com.