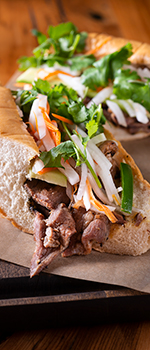 Chicken Banh Mi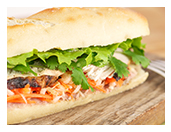 Are you tired of the same old boring chicken sandwich? Enhance your sandwich experience by layering rotisserie chicken with crisp veggies, and you can create your own easy version of this popular Vietnamese sandwich. This recipe takes 20 minutes to prepare and serves four people.
Ingredients
4 soft French-style rolls, halved
1/3 cup mayonnaise
2 teaspoons Asian chili sauce (Sriracha)
1 cucumber, thinly sliced
1/2 radishes, thinly sliced
2 cups purchased deli-roasted chicken, shredded
1 cup shredded carrots
1/4 cup fresh cilantro, snipped
1 jalapeno, sliced into thin rounds and seeded if desired
1/3 cup rice wine vinegar
1 tablespoon toasted sesame oil
2 teaspoons sugar
1/4 teaspoon crushed red pepper
Instructions
In a small bowl, mix the mayonnaise and Asian chili sauce. Spread the mixture on the roll tops, set aside.
Layer the sliced cucumber, radishes, chicken, shredded carrot, cilantro, and sliced jalapeno on the roll bottoms.
Whisk together the rice wine vinegar, toasted sesame oil, sugar, and crushed red pepper. Drizzle it over the chicken and vegetables placed in the sandwich. Top with sliced jalapenos and replace the roll tops.
Source: Midwestliving.com